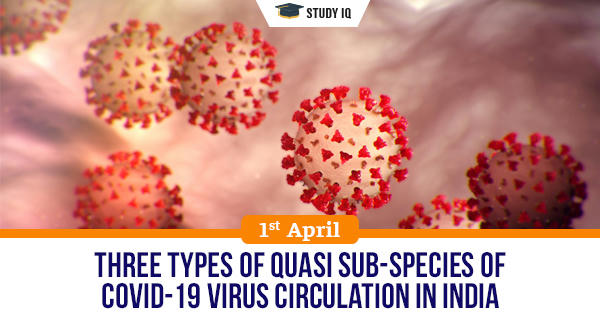 Three types of quasi sub-species of COVID-19 virus circulation in India
Date: 01 April 2020
Tags: Miscellaneous
Issue
A mixture of three quasi-subspecies of SARS-CoV-2 is in circulation in India, according to the Indian Council of Medical Research (ICMR).
Background
These imported variants showed no differences from how they behaved in the place of origin. Scientists are yet to classify a SARS-Cov-2 variant as an Indian strain.
Details
India's COVID-19 cases were mainly from people with travel history and their immediate contacts, which is to say that this virus was brought in from outside.

There is no variation from what is being seen on how this strain is behaving around the world. So there is no difference in its severity.

The progression in terms of cases could not be compared with any other country as of now and people should be looking at the risk of exposure and adherence to physical distancing.

A 'strain' is a sub-type of a virus, characterised by different cell surface proteins, eliciting a different immune response from other strains.

A mutation, however, is very minor genetic errors in genome sequences made during replication that doesn't fundamentally change the nature or behaviour of the virus.

The novel coronavirus's genome is made up of 30,000 base pairs, while a human genome contains over 3 billion. The small numbers make it easy for scientists to track changes and new lineages as they evolve.

If a virus mutates too fast, vaccines being developed now will potentially become useless, and pharmaceuticals will have to constantly keep up with the mutations by developing new vaccines all the time, a financially unviable prospect.