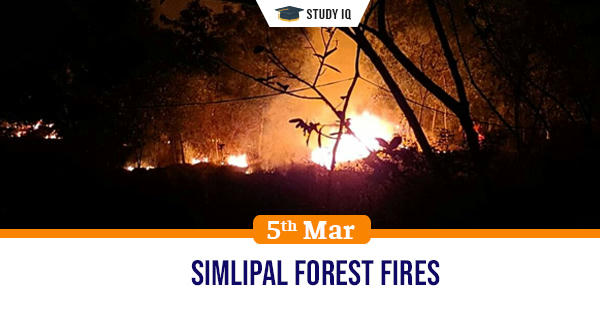 Simlipal forest fires
Date: 05 March 2021
Tags: Miscellaneous
Issue
A forest fire that started in the Simlipal biosphere reserve area in February has been finally brought under control.
Background
The Simlipal forest reserve witnesses forest fires especially during dry weather conditions due to its dry vegetation profile.
Details
Similipal is a national park and a tiger reserve derives in Odisha's Mayurbhanj district. It obtains its name from 'Simul' (silk cotton) tree.

Similipal lies at the eastern end of Eastern Ghats. It was declared a biosphere reserve by the Government of India in 1994.

Similipal hosts about 3,000 species of plants. The identified fauna include various species of amphibians, reptiles, birds and mammals.
Forest fire vulnerability
The forest area remains vulnerable to forest fires as summer approaches and vegetation dries out.

The phenomenon of drying of vegetation is recurring but is usually controlled through short spells of precipitation.

The entire forest floor consists of dry leaves and makes the area vulnerable to fast spreading fires.
Cause of fire
Natural sources of forest fires include lightning strikes and also increasing temperatures. But most of the fires can be attributed to human induced factors.

Hunters using forest fires to drive out animals has also resulted in spreading of fires in the area.

Villagers also set fires deliberately in order to burn dry leaves and make collection of Mahua flowers easy. The flowers are used to make an intoxicating drink.

Advanced heat wave along with the early onset of summer further aggravates the condition for the occurrence of fires.
Control and prevention
Forest officials have forecasted fire-prone days and also included forest community members to reduce such incidents.

Officials have also used methods like creating fire lines, clearing sites of dried biomass, and crackdown on poachers.

The forest fire lines help break the forest into compartments to prevent fires from spreading. Forest fire lines are strips kept clear of vegetation.

Community participation has been initiated by the forest department to avoid such incidents in future.