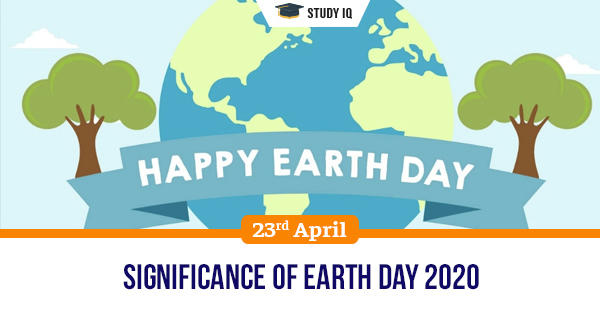 Significance of Earth Day 2020
Date: 23 April 2020
Tags: Miscellaneous
Issue
April 22 is Earth Day, an international event celebrated around the world to pledge support for environmental protection. The year 2020 marks the 50th anniversary of the annual celebrations. This year's theme for Earth Day is 'climate action'.
Background
Earth Day aims to build the world's largest environmental movement to drive transformative change for people and the planet. The movement's mission is "to diversify, educate and activate the environmental movement worldwide."
Details
In the decades leading up to the first Earth Day, Americans were consuming vast amounts of leaded gas through massive and inefficient automobiles.

Industry belched out smoke and sludge with little fear of the consequences from either the law or bad press. Air pollution was commonly accepted as the smell of prosperity.

Earth Day was first observed in 1970, when 20 million took to the streets to protest against environmental degradation. The event was triggered by the 1969 Santa Barbara oil spill, as well as other issues such as smog and polluted rivers.

The day continues to hold great significance. In 2009, the United Nations General Assembly adopted a resolution formally recognizing the day as International Mother Earth Day.

The landmark Paris Agreement, which brings almost 200 countries together in setting a common target to reduce global greenhouse emissions, was signed on Earth Day 2016.

Climate change, man-made changes to nature as well as crimes that disrupt biodiversity, such as deforestation, land-use change, intensified agriculture and livestock production or the growing illegal wildlife trade, can increase contact and the transmission of infectious diseases from animals to humans (zoonotic diseases) like COVID-19.