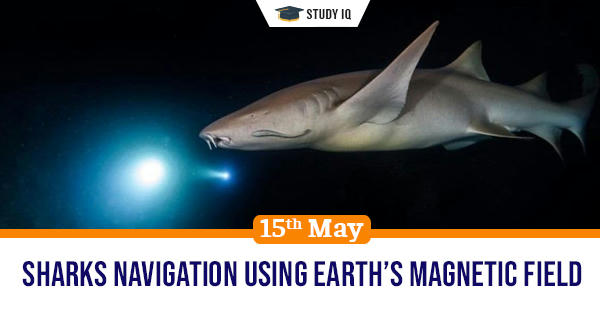 Sharks navigation using Earth's magnetic field
Date: 15 May 2021
Tags: Miscellaneous
Issue
A research has found that Sharks have the ability to interpret Earth's magnetic field as maps and can navigate open seas using it.
Background
Earth's magnetic field is generated by electromagnetic effect that can be beneficial in using as a compass.
Details
The ability discovered in sharks is not new in the world. Animals and birds such as turtles, lobsters etc have such ability.

A study had previously discovered that a great white shark had swum from South Africa to Australia and back to South Africa on a straight route.

Sharks are part of organisms known as elasmobranchs, which have the ability to interpret and use magnetic signals. The group also includes rays, skates, and sawfish etc.
The study
Scientists constructed cage with copper wires and a pool to mimic the natural settings of open ocean. They passed electricity to generate magnetic field.

When a magnetic field similar to Earth's magnetic field was generated, sharks were able to change their direction and move towards their previous location.

This may indicate that identifying the magnetic signal near their homes may be a natural trait they acquired over a period of continuous migration.

The scientists have not been able to recognise the mechanism behind the activity. Further studies are needed to determine the ability in sharks.