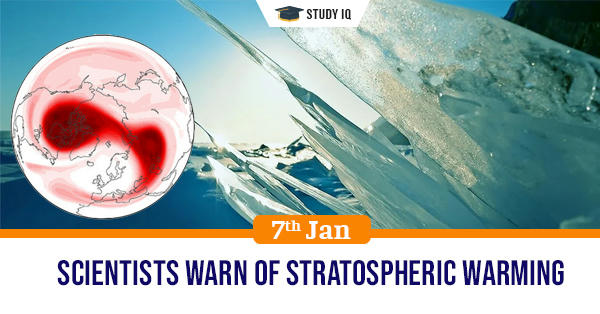 Scientists warn of stratospheric warming
Date: 07 January 2021
Tags: Miscellaneous
Issue
Another polar vortex is on the cards, thanks to a sudden stratospheric warming event around the North Pole.
Details
During such episodes, the stratosphere can increase in temperature by up to 90°F (50°C) over mere days.

This disturbance can travel down through the atmosphere and if it reaches the ground — can cause shifts in the jet stream that cool Europe and northern Asia.

Experts studied 40 stratospheric warming episodes from the last six decades and learnt to track their signals that they travel down to the Earth's surface.

While an extreme cold weather event is not a certainty, sudden stratospheric warmings have a significant impact on surface weather.

The sudden stratospheric warming can potentially result in polar vortex splitting into two smaller "child" vortices.

Such splitting, the team found, tends to be associated with colder weather over both Siberia and north-west Europe.
Stratospheric warming
A sudden stratospheric warming (SSW) is an event in which polar stratospheric temperature rises by several times over a course of few days. SSW is closely associated with polar vortex breakdown.
Polar vortex
A polar vortex is a low pressure area that is parked in polar regions. During winter, the polar vortex at the North Pole expands, sending cold air southward.

This happens fairly regularly and is often associated with outbreaks of cold temperatures in the United States.

Sometimes this low-pressure system can weaken and travel from its usual position. As this system weakens, part of the polar vortex can break off and migrate south, bringing plenty of cold air with it.

The reason for breaking of the pressure system is attributed to global warming when polar ice melts faster than usual, resulting in dissipation of heat.