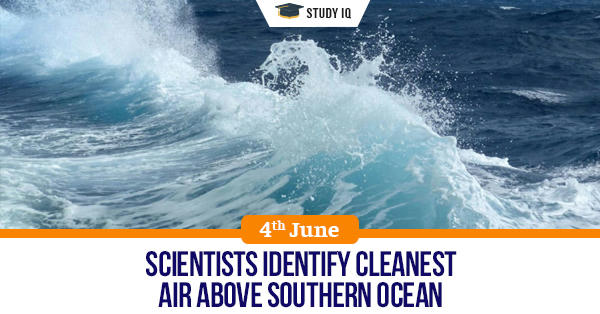 Scientists identify cleanest air above Southern Ocean
Date: 04 June 2020
Tags: Miscellaneous
Issue
Researchers believe they have found the world's cleanest air, located over the Southern Ocean. The team of researchers has said that the atmospheric region over the ocean, which surrounds Antarctica, has not been adversely impacted by human activity.
Background
As the quality of air continues to steadily deteriorate due to human activity, scientists and researchers struggle to find pockets across the Earth where the air is unaffected by people.
Details
The team found that aerosol particles, which are produced by human activity like burning fossil fuels, planting certain crops, and fertiliser production were absent in the boundary layer, which feeds the lower clouds over the Southern Ocean.

The aerosols controlling the properties of SO (Southern Ocean) clouds are strongly linked to ocean biological processes, and that Antarctica appears to be isolated from southward dispersal of microorganisms and nutrient deposition from southern continents.

The researchers travelled aboard a research boat from Tasmania, Australia to the Antarctic ice edge and sampled the air in the marine boundary level, the part of the atmosphere that has direct contact with the ocean.

Over the Southern Ocean, sea spray emissions dominate the material available for forming liquid cloud droplets. Ice-nucleating particle concentrations, rare in seawater, are the lowest recorded anywhere on the planet.
Boundary layer
Boundary layer climatology is the study of the processes that link the surface of the Earth to the lower atmosphere as well as the general features that are established as a consequence.

Near the Earth's surface, the atmosphere interacts with an endless variety of ground surface types, each of which conditions the air above it in a distinctive manner.

As the wind moves the air across the edge of a new area of ground, characteristics that were acquired upwind of the edge begin to change in response to new influences.