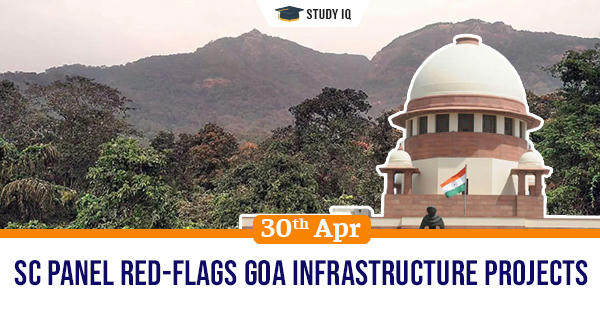 SC panel red-flags Goa infrastructure projects
Date: 30 April 2021
Tags: Miscellaneous
Issue
The Supreme Court appointed Central Empowerment Committee (CEC) has put objections on several infrastructure projects undertaken by the Goa government.
Background
Several environmentalists had approached the Supreme Court against the permission given by the central government to carry out projects in sensitive areas of the state.
Details
The CEC looked at three key projects that were given go-ahead. This includes four laning of a national highway, double tracking of railway line and Goa-Tanmar Transmission Project.

The double tracking of railway line is from Castle Rock in Karnataka to Kulem in Goa. The high power transmission line passes through Bhagwan Mahaveer Wildlife Sanctuary (BMWS) and Mollem National Park (MNP).
Start of issue
The Goa Foundation had accused the Standing Committee of National Board for Wildlife (SC-NBWL) for violating Supreme Court's order of October 5, 2015 relating to the National Park, Wildlife Sanctuaries and the Wild Life (Protection) Act, 1972.

The SC-NBWL has already given permission for double tracking of railway line and power transmission project and had taken up the four laning project.

There was an accusation that about 170 hectares of forests from protected areas would be diverted for these projects along with cutting of approx 37,000 trees.
Opinion of CEC
The CEC opined that railway track doubling from Karnataka to Goa will destroy the fragile ecosystem of Western Ghats, which are prestigious biodiversity hotspots.

The current project passes through a Tiger Reserve, Two Wildlife Sanctuaries and a National Park but would not increase the existing capacity of railway transport.

The Goa-Tanmar Transmission Project should be redrawn again along the existing line so that wildlife and biodiversity can be preserved from getting destroyed.

For the four lane highway, it suggested building more elevated structures in areas passing through the wildlife sanctuary.
Central Empowered Committee
The Central Empowered Committee (CEC) is a panel of experts, created by the Indian Supreme Court to study infrastructure projects in detail so as to identify possible effects on the environment.