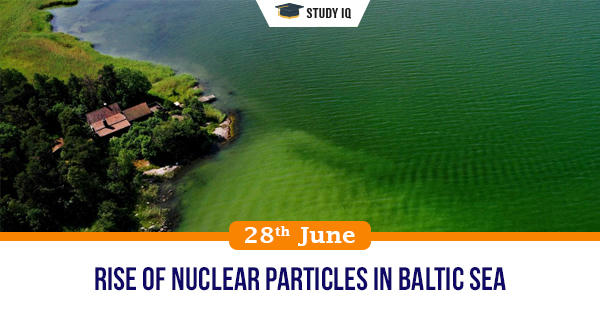 Rise of nuclear particles in Baltic Sea
Date: 28 June 2020
Tags: Miscellaneous
Issue
Radiation sensors in Stockholm have detected higher-than-usual but still harmless levels of isotopes produced by nuclear fission, near the Baltic Sea.
Background
The Comprehensive Nuclear-Test-Ban Treaty Organization (CTBTO) oversees a network of hundreds of monitoring stations that use seismic, hydroacoustic and other technology to check for a nuclear weapon test anywhere in the world.
Details
Stations scanning the air for radionuclides, the radioactive particles that can be carried long distances by the wind, detected unusually high levels of three radionuclides: caesium-134, caesium-137 and ruthenium-103.

Seismic refers to earthquakes or other vibrations underneath the earth's surface, while the term hydroacoustic refers to an underwater sound.

The detection used a borderless map showing where the particles might have come from in the 72 hours before they were detected - a large area covering the tips of Denmark and Norway as well as southern Sweden, much of Finland, Baltic countries and part of western Russia including St Petersburg.

Nuclear fission refers to the atomic chain reaction that generates heat in nuclear reactors used in nuclear power stations.
CTBTO
The Comprehensive Nuclear-Test-Ban Treaty Organization (CTBTO) is an international organization that will be established upon the entry into force of the Comprehensive Nuclear-Test-Ban Treaty, a Convention that outlaws nuclear test explosions. Its seat will be Vienna, Austria.

The organization will be tasked with verifying the ban on nuclear tests and will operate therefore a worldwide monitoring system and may conduct on site inspections.

The Comprehensive Nuclear-Test-Ban Treaty will enter into force 180 days after the Treaty has been ratified by 44 States, listed in Annex 2 of the Treaty, which were designated to have a nuclear reactor or at least some advanced level of nuclear technology.

As of March 2015, 41 of these Annex 2 states have signed the treaty and 36 have ratified. India, North Korea and Pakistan have not signed or ratified the treaty; China, Egypt, Iran, Israel and the United States have signed but have not ratified.
Baltic region
The Baltic states also known as the Baltic countries, Baltic nations, or simply the Baltics, is a geopolitical term, typically used to group the three sovereign states in Northern Europe on the eastern coast of the Baltic Sea: Estonia, Latvia, and Lithuania.

All three countries are members of NATO, the eurozone, and the OECD, and are members of the European Union.