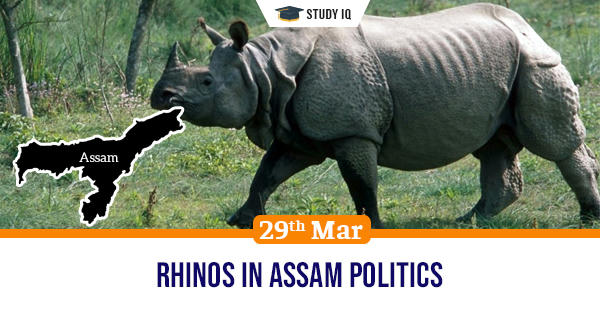 Rhinos in Assam politics
Date: 29 March 2021
Tags: Miscellaneous
Issue
Political parties are continuously invoking the one-horned rhino during the course of Assam's elections. Poll promises are also made to protect and save "the pride of Assam".
Background
Rhinos are herbivores animal that is mainly found along the plains. The Indian one-horned rhino is found in West Bengal and Uttar Pradesh along with Assam.
Details
From a long time, rhinos have been an emotional issue for the people of the state. Rhino as a part of Assam's identity started during the Assam movement.

The importance of Rhinos in Assam's culture is further strengthened by large number of Bihu songs based on them.

The Rhino became part of political narrative when its poaching was directly linked to indigenous identity and also control over resources of the land.

Rhino is still believed to be an Assamese resource and rhino protection is seen as a sign of good governance.

If the government can protect national parks and sanctuaries, it is considered control over law and order.
Rhino poaching
Rhino poaching in Kaziranga had been a common phenomenon up to the year 2013. The highest figures were in 2013 and 2014.

In 2020 there had been two cases of Rhino poaching but in 2021 there has not been a single such incident.

There are also incidents of accidental killing when Rhinos leave their core habitat and venture towards the areas where there is human settlement.