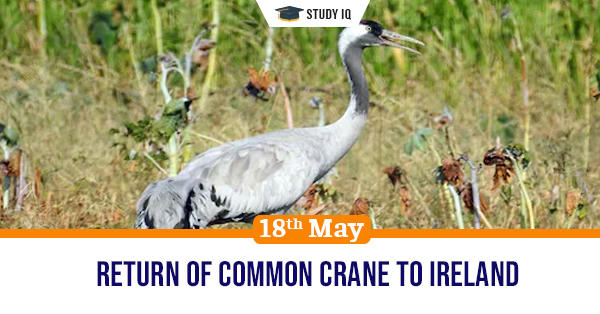 Return of Common Crane to Ireland
Date: 18 May 2021
Tags: Miscellaneous
Issue
The most popular bird of Ireland, the Common Crane has returned to the country after a gap of three years.
Background
The Common crane has a major presence in Ireland's popular culture and also as a popular pet during medieval times.
Details
The species was found in a peat bog in the country's midlands, but their location was not disclosed. The peatland is a form of wetlands that occurs in countries in northern latitude.

The species of the Crane are usually found in Ireland during winters but not during the breeding season. This was for the first time they were found nesting during breeding season.

The birds are about 4 feet in height and one of the largest birds in Ireland. They were earlier present throughout the country.

Their population started to decline after the destruction of their habitat. They are deeply rooted in the country's culture, including names of towns and folk tales.

Experts feel that the Cranes are trying to re-establish their presence in the country as other sighting was also reported.
Restoring bogs
Bogs are a kind of soft and spongy wetlands that form in cold northern latitudes. They take thousands of years to form.

They are one of the largest spots for carbon sequestration as they trap organic carbon in form of plants and trees.

These ecosystems have been drained for using the peat fuel and also re-development of land for agriculture and infrastructure.

Re-generation of bogs and related ecosystem is central for Cranes to re-appear. It may take time but can prove successful in future.