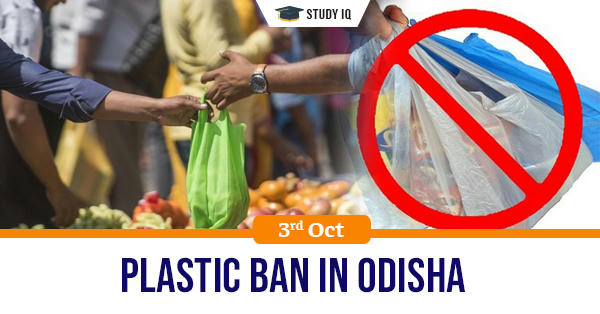 Plastic ban in odisha
Date: 03 October 2019
Tags: Miscellaneous
Issue
Odisha state government has banned use of plastic bags from all urban areas according to a notification released by the government on the occasion of Gandhi Jayanti.
Background
Manufacture, sale, trade, import, storage, transportation and distribution of single-use plastics are prohibited as per a notification issued by the goverment.
Details
The ban is imposed on polythene carry bags of any shape, thickness and size (excluding compostable), Polyethylene Terephthalate (Pet/Pete) bottles of less than 200 ml capacity.
The vendors will not be allowed to use polythene sheets of less than 50-micron thickness for storing, transporting, dispensing or packaging of any article or commodity.
Plastic pollution
Plastic pollution can afflict land, waterways and oceans. It is estimated that large scale plastic waste enters the ocean from coastal communities each year.
Living organisms, particularly marine animals, can be harmed either by mechanical effects, such as entanglement in plastic objects, problems related to ingestion of plastic waste, or through exposure to chemicals within plastics that interfere with their physiology.
Effects on humans include disruption of various hormonal mechanisms.
Threats posed by plastic pollution
Polluting plastics even affect the world's tiniest organisms such as plankton. When these organisms become poisoned due to plastic ingestion, this causes problems for the larger animals that depend on them for food.
World's water is in great danger because of leaking plastics and waste. Groundwater and reservoirs are susceptible to leaking environmental toxins.
Burning of plastic in the open air, leads to environmental pollution due to the release of poisonous chemicals. The polluted air when inhaled by humans and animals affect their health and can cause respiratory problems.
It costs millions of dollars each year to clean affected areas after exposure, not to mention the loss of life to plants, animals, and people.