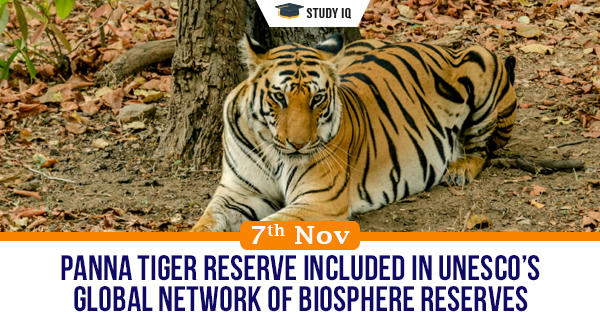 Panna Tiger Reserve included in UNESCO's global network of biosphere reserves
Date: 07 November 2020
Tags: Miscellaneous
Issue
Panna Tiger Reserve (PTR) in Madhya Pradesh (MP) has been included in the global network of biosphere reserves by the United Nations Educational, Scientific and Cultural Organisation (UNESCO).
Background
The Tiger Reserve was notified as a biosphere reserve by the Union Ministry of Environment, Forest and Climate Change in 2011 and after nine years the UNESCO included it in the Man and Biosphere programme.
Details
Panna Tiger Reserve
Panna National Park and the surrounding territorial forest area is the only large chunk of wildlife habitat remaining in North Madhya Pradesh in the otherwise deciduous fragmented forest landscape of the region.

The National Park is situated at a point where the continuity of the Tropical and subtropical dry broadleaf forests belt is broken and beyond this the Upper Gangetic Plains moist deciduous forests of the great Indo-Gangetic Plain begins.

The forests of Panna National Park along with Ken Gharial Wildlife Sanctuary and adjoining territorial divisions form a significant part of the catchment area of Ken River which runs for about 72 km (45 mi) through the park.

Animals found here are the tiger, leopard, chital, chinkara, nilgai, sambhar, and sloth bear. The park is home to more than 200 species of birds including the bar-headed goose, honey buzzard, king vulture, blossom-headed parakeet, changeable hawk-eagle, and Indian vulture.

The Government of India along with Government of Madhya Pradesh and Government of Uttar Pradesh have planned to link the Ken River with Betwa River.

This involves construction of Daudhan Dam. The project aims to transfer excess water from Ken basin to Betwa basin thus provide water access to the drought prone region of Bundelkhand.
UNESCO's global network of biosphere reserves
Nilgiri

Gulf of Mannar

Sunderban

Nanda Devi

Nokrek

Pachmarhi

Similipal

Achanakmar - Amarkantak

Great Nicobar

Agasthyamala

Khangchendzonga
Biosphere reserves
Biosphere reserves are larger areas of natural habitat than a typical national park or animal sanctuary, and that often include one or more national parks or preserves, along with buffer zones that are open to some economic uses.

There are 18 biosphere reserves in India:
Cold Desert, Himachal Pradesh

Nanda Devi, Uttrakhand

Khangchendzonga, Sikkim

Dehang-Debang, Arunachal Pradesh

Manas, Assam

Dibru-Saikhowa, Assam

Nokrek, Meghalaya

Panna, Madhya Pradesh

Pachmarhi, Madhya Pradesh

Achanakmar-Amarkantak, Madhya Pradesh-Chhattisgarh

Kachchh, Gujarat

Similipal, Odisha

Sundarban, West Bengal

Seshachalam, Andhra Pradesh

Agasthyamala, Karnataka-Tamil Nadu-Kerala

Nilgiri, Tamil Nadu-Kerala-Karnataka

Gulf of Mannar, Tamil Nadu

Great Nicobar, Andaman & Nicobar Island