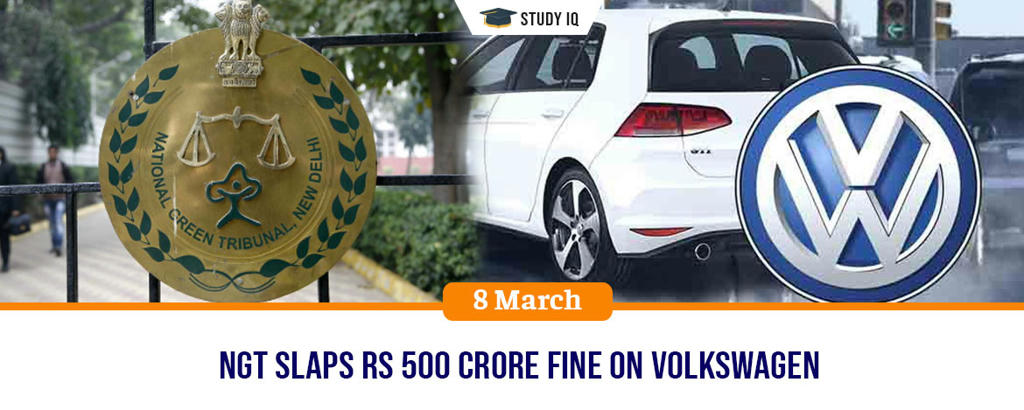 NGT slaps Rs 500 crore fine on Volkswagen
Date: 08 March 2019
Tags: Organizations, Miscellaneous
National Green Tribunal (NGT) has slapped fine of Rs. 500 crore on German automobile giant Volkswagen for damaging environment through use of "cheat device" in its diesel cars in India. It held that this fine is means of "creating deterrence" and noted that Central Pollution Control Board (CPCB) may consider utilising this amount towards improving air quality in National Capital Region and other highly polluted areas.
What is the issue?
German automobile giant Volkswagen in 2015 had admitted of using of 'defeat device' in its 11 million diesel engine cars sold in US, Europe and other global markets to manipulate emission test results.

This defeat device or cheat device was software employed by Volkswagen in diesel engines to manipulate emission tests by changing performance of cars globally

It had helped the company to cheat in emissions tests especially in its diesel cars in order to enhance their technical performances by trading off environmental guidelines and set emissions limit.
NGT Fine
NGT in November 2018 had held that use of cheat device by Volkswagen in diesel cars in India had led to inference of environmental damage. It also had directed it to deposit an interim amount of Rs. 100 crore with CPCB.

It also had constituted expert committee to give its opinion whether manufacturer has exceeded the prescribed environmental norms and fair estimate of the damage caused to the environment.

This committee had recommended imposition of Rs 171.34-crore fine on Volkswagen as health damages for causing air pollution in Delhi due to excess nitrogen oxide (NOx) emissions. It had estimated that Volkswagen cars had released approximately 48.678 tonnes of NOx in 2016 in the national capital.
National Green Tribunal (NGT)
It is statutory body established under National Green Tribunal Act, 2010 for effective and expeditious disposal of cases relating to environmental protection and conservation of forests and other natural resources.

It specialises in adjudicating on matters including enforcement of any legal right relating to environment forests and harm to people or property due to neglect of environmental obligations of infrastructure projects.

It is guided by principles of natural justice and not bound by procedure laid down under Code of Civil Procedure (CrCP), 1908.

It is empowered to give relief and compensation for damages to persons and property to environment,

Principal Place of Sitting NGT is New Delhi. It also has regional benches at Bhopal, Pune, Kolkata and Chennai.