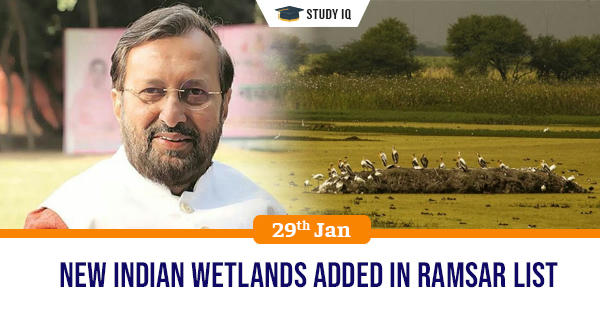 New Indian wetlands added in Ramsar list
Date: 29 January 2020
Tags: Miscellaneous
Issue
India has added 10 more wetlands to sites protected by the Ramsar Convention, Union Environment Minister Prakash Javadekar has announced.
Background
With this, a total of 37 sites in the country have been recognised under the international treaty. Wetlands declared as Ramsar sites are protected under strict guidelines.
Details
The 10 new ones are Nandur Madhameshwar, a first for Maharashtra. Keshopur-Miani, Beas Conservation Reserve and Nangal in Punjab.
Nawabganj, Parvati Agra, Saman, Samaspur, Sandi and Sarsai Nawar in Uttar Pradesh.
The other Ramsar sites are in Rajasthan, Kerala, Odisha, Madhya Pradesh, Himachal Pradesh, Assam, West Bengal, Jammu and Kashmir, Andhra Pradesh, Manipur, Gujarat, Tamil Nadu and Tripura.
Ramsar sites in India
Jammu and Kashmir: Tso Moriri, Surinsar-Mansar, Hokera Wetland, Wular Lake

Punjab: Chandertal, Renuka Lake, Pong Dam

Himachal Pradesh: Harike Wetlands, Kanjli, Ropar

Uttar Pradesh: Upper Ganga River

Rajasthan: Keoladeo National Park, Sambhar lake

Gujarat: Nalsarovar Bird Sanctuary

Madhya Pradesh: Bhoj Wetlands

Andhra Pradesh: Kolleru Lake

Tamil Nadu: Point Calimere Wildlife and Bird Sanctuary

Kerala: Ashtamudi Wetland, Vembanad Kol, Sashtamkotta Lake

Tripura: Rudrasagar Lake

Manipur: Loktak Lake

Odisha: Bhitarkanika Mangroves, Chilika Lake

Assam: Deepor Bheel

West Bengal: East Calcutta Wetlands, Sundarbans
Ramsar Convention
The Convention, signed in 1971 in the Iranian city of Ramsar, is one of the oldest inter-governmental accord for preserving the ecological character of wetlands. Also known as the Convention on Wetlands, it aims to develop a global network of wetlands for conservation of biological diversity and for sustaining human life.
Montreux Record
The Montreux Record is a register of wetland sites on the List of Ramsar wetlands of international importance where changes in ecological character have occurred, are occurring, or are likely to occur as a result of technological developments, pollution or other human interference.

At present, there are two Indian sites Loktak Lake, Manipur and Keoladeo National Park, Rajasthan on the Montreux Record. Chilika Lake, Odisha was the first Indian site to be placed on Montreux Record in 1993 due to siltation, which was choking the mouth of the lake.