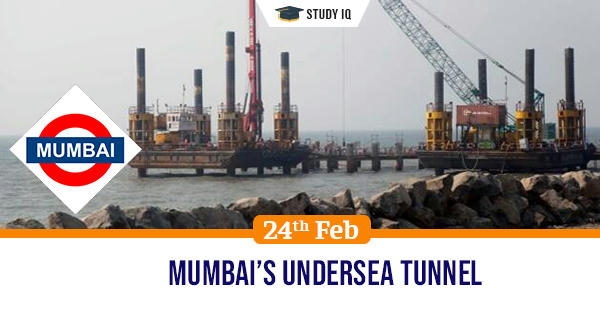 Mumbai's undersea tunnel
Date: 24 February 2021
Tags: Miscellaneous
Issue
Mumbai will be home to India's first undersea tunnel, which will be part of the city's Coastal Road project.
Details
The twin tunnels have a length of 2.07 km of which a kilometre will be under the sea and are being built as part of the Mumbai Coastal Road Project, starting from the Marine Drive promenade to the Worli-end of the Bandra-Worli Sea Link.

The road will comprise of land-filled roads on areas reclaimed from the sea, bridges and tunnels and is part of a plan to link South Mumbai with North with a toll-free freeway that is expected to ease up traffic in one of the most congested cities in the world.

It is the first undersea road tunnel in the country which will pass through Arabian Sea near Girgaon Chowpatty. It will start from Priyadarshani Park and end at Netaji Subhash Road in Marine Drive.
Undersea tunnels
Unlike the big undersea tunnels in the world, include the Channel Tunnel that connects England and France, the twin tunnels in Mumbai are being built at a relatively shallow depth.

Mumbai's undersea tunnel will be 20 metres below the seabed. In comparison, the Channel Tunnel at its deepest point is 75 metres below the sea bed.

The Seikan Tunnel in Japan lies over 100 metres below the seabed. The Mumbai tunnel is also being built very close to the coast, where the depth of the sea is not more than 4 to 5 metres.
Challenges in construction
The two primary issues of concern are the seepage of sea water into the tunnel and the fear of the tunnel caving in due to the pressure exerted by sea water.

The fact that the tunnel is very close to the coast and not in mid-sea has made things easier for the engineers.
Safety features
While the two tunnels are separate, 11 cross sections tunnels are being built to help connect the twin tunnels with each other.

These tunnels will be used in case of an emergency where people from one tunnel can be evacuated into the other through the cross section connections.

The drainage system is also designed to cater to seepages. There are slotted drains along the carriageway to collect any seepages, discharge from fire hydrants, and oil spillage from vehicles.
Temperature and gas regulation
The fact that these tunnels are under the sea makes the dispensation of carbon monoxide which is emitted by cars a difficult proposition.

High levels of carbon monoxide inside the tunnel could be hazardous for commuters.

To get over the problem of flushing out these hazardous gases from inside the tunnel system, a ventilation system called Saccardo will be installed inside the tunnel.

The system monitors the emission levels inside the tunnel and shoots an air jet through large ventilation fans to drive out the fumes in the desired direction.