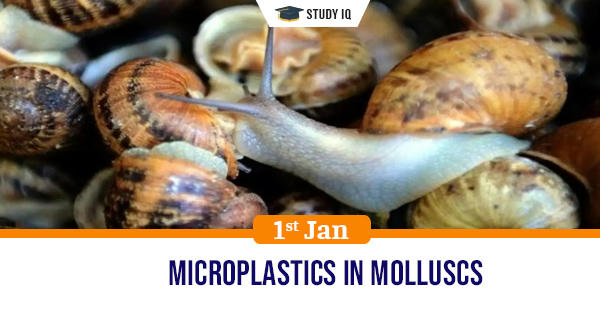 Microplastics in Molluscs
Date: 01 January 2021
Tags: Miscellaneous
Issue
A research has found that molluscs have the highest level of microplastics among all seafoods.
Background
The microplastic content found in molluscs was 0-10.5 microplastics per gram (MPs/g) and in crustaceans, it was around 0.1-8.6 MPs/g.
Details
The least amount of microplastics was found in fish with 0-2.9 MPs/g. These microplastics get into water bodies with fishes and other sea creatures through waste management.

The countries that consume the largest amount of molluscs are China, Australia, Canada, Japan, and the US.

It is also consumed largely in countries like Europe and the UK. Those involved with the study also believe that more data is required to study the effect on sea animals living in different water bodies, such as oceans and seas.

The complete impact of this research is still not known because researchers are trying to figure out the effects on the health of people consuming shellfish and fishes.

Microplastics are found in body parts such as the intestines and the liver. Seafood like mussels, scallops, and oysters are consumed whole.
Microplastics
Microplastics are very small pieces of plastic that pollute the environment. Microplastics are not a specific kind of plastic, but rather any type of plastic fragment that is less than 5 mm in length.

When plastic ends up in water, it dissolves into smaller fragments. This is caused by many factors, for example ultraviolet rays, wind, waves, microbes, and elevated temperatures.
Effects of microplastics
Microplastics damage aquatic creatures, as well as turtles and birds. They block digestive tracts, diminish the urge to eat, and alter feeding behavior, all of which reduce growth and reproductive output.

The pollutants released by microplastics can be ingested and absorbed by us. These can interfere with the human endocrine system and produce genetic modifications.