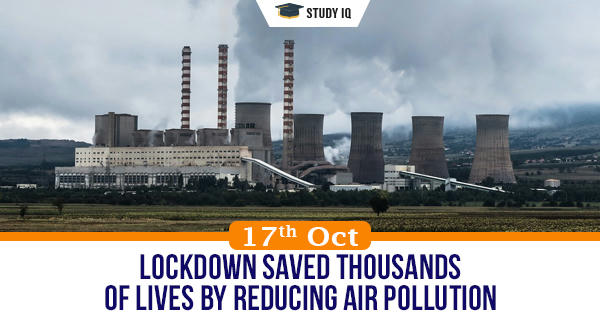 Lockdown saved thousands of lives by reducing air pollution
Date: 17 October 2020
Tags: Miscellaneous
Issue
The lockdown measures implemented in Europe and China at the start of the pandemic improved air quality and averted thousands of deaths in regions with severe air pollution, according to a new study.
Background
A team of scientists found that particulate matter (PM 2.5) concentrations in China and parts of Europe dropped by 29.7% and 17.1% respectively during the lockdown.
Details
Scientists measured air quality between February and March in China and February and May in Europe, when stay-at-home orders were in place.

Particulate matter, small airborne particles, comes from combustion-related sources such as industrial emissions, transportation, wildfires, and chemical reactions of pollutants in the atmosphere.

The team measured particulate matter concentrations at more than 2,500 sites in Europe and China between 2016 and 2020. They integrated these into computer simulations to see how the lockdown impacted air quality and its effects.

The researchers estimated rates of premature death against four different economic recovery scenarios. One of them assumed a fast resumption of normal activity, and another one a gradual come-back.

The study found that from February to March an estimated 24,200 premature deaths associated with particulate matter were averted throughout China compared to 3,309 reported COVID-19 fatalities.

Improvements in air quality were widespread across China because of extended lockdown measures.

The situation in Europe was quite different. While COVID-19 related deaths were higher compared to China, an estimated 2,190 deaths were still avoided during the lockdown period when compared to averages between 2016 and 2019.

The researchers believe the study is an example of the need for ad hoc control policies to be developed to achieve effective air quality improvements.

This could include subsidies to electric vehicles, prioritizing public transport in heavily trafficked cities, and the adoption of more stringent emission limitations for industries.