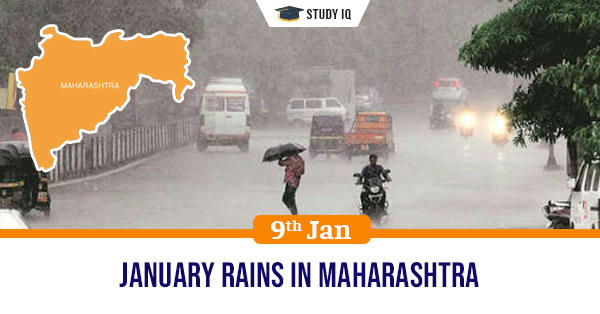 January rains in Maharashtra
Date: 09 January 2021
Tags: Miscellaneous
Issue
Several parts of Maharashtra received moderate rainfall in the first week of January. The minimum temperature in most parts of the state during this month hovers between 7 – 13 degrees.
Background
The rainfall is mainly associated with the easterly winds and fairly uncommon. The minimum temperatures across the state have jumped significantly above normal.
Details
An active easterly wind means that there is abundant moisture brought-in over the land from the Bay of Bengal, offering favourable conditions for cloud formation that triggers thunderstorms.

Normally, Marathwada and rest of Maharashtra record rainfall during the Southwest monsoon season – June to September. During the monsoon withdrawal in October, and on some rare occasions in November, it experiences thunderstorms.
Effects of rain
The prevailing weather is harmful for standing crops, especially fruits like grapes and strawberries, which are set to hit markets in less than two months from now.

Many crops have reached their flowering and tillering stage, a time when the plants need adequate sunlight. The yield may get affected.

Vegetable and fruit crops could suffer in their growth stages as the moisture can favour pests and similar attacks.

The agri-meteorologists have advised the farmers against undertaking any irrigation during the next two days, given the rainy conditions and moisture prevalent in the atmosphere.
Continuance of the weather
The dominance of the easterly winds will remain for another week. Though its maximum impact in the form of heavy rain will be felt over parts of Tamil Nadu, Kerala, and the southern peninsular regions, Maharashtra will remain under its influence.