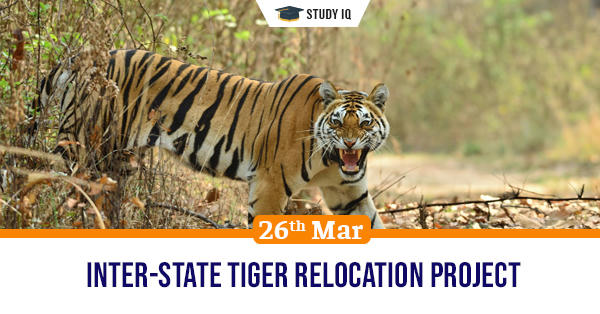 Inter-state Tiger relocation project
Date: 26 March 2021
Tags: Miscellaneous
Issue
A Tiger relocated to Odisha from Madhya Pradesh has returned back after the National Tiger Conservation Authority (NTCA) shelved off the project.
Background
The two states were having a conflict on the process for the relocation. The project was dropped and the Tiger returned after 28 months.
Details
The Tiger relocation project was started in 2018 where one male Tiger from Kanha Tiger Reserve and a female from Bandhavgarh from Madhya Pradesh were relocated to Satkosia Tiger Reserve in Odisha.

The relocation process was initiated for two purposes: reducing Tiger population in areas where there were more territorial fights and second to introduce Tigers in areas where population has considerably reduced.

The project was named as "augmentation and recovery of tiger population in Satkosia tiger reserve". Six Tigers from different parts of Madhya Pradesh were to be sent to Odisha.
Reasons for failure
The major reason for the failure was the lack of trust and confidence between forest department and Villagers.

The Tiger started venturing into human habitat, leading to attack and subsequent casualty. Villagers started opposing the project and it turned into political issue.
Satkosia Tiger reserve
Satkosia Tiger reserve falls under four districts of Odisha and has potential for increasing Tiger population.

The relocation would provide the reserve with much needed tourist revenue and also solution for increasing population in Madhya Pradesh.