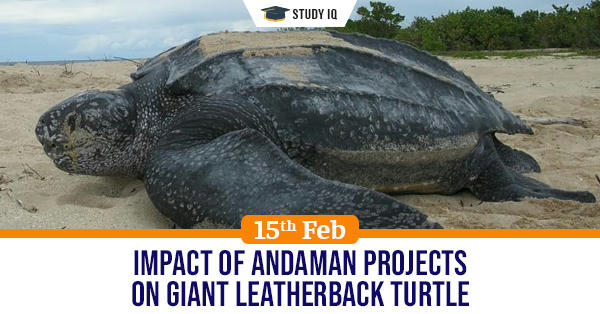 Impact of Andaman projects on Giant leatherback turtle
Date: 15 February 2021
Tags: Miscellaneous
Issue
Proposals for tourism and port development in the Andaman and Nicobar (A&N) Islands have conservationists worried over the fate of some of the most important nesting populations of the Giant Leatherback turtle.
Details
Leatherbacks are found in all oceans except the Arctic and the Antarctic. They are the largest of the seven species of sea turtles on the planet and also the most long-ranging.

Within the Indian Ocean, they nest only in Indonesia, Sri Lanka, and the Andaman and Nicobar Islands and are also listed in Schedule I of India's Wildlife Protection Act, 1972.

Surveys conducted in the A&N Islands over the past three decades have shown that the populations here could be among the most important colonies of the Leatherback globally.

There is concern now that at least three key nesting beaches are under threat due to mega development plans announced in recent months.

These include NITI Aayog's ambitious tourism vision for Little Andaman and the proposal for a mega-shipment port at Galathea Bay on Great Nicobar Island.
Andaman development
The Little Andaman plan has sought the de-reservation of over 200 sq km of pristine rainforest and also of about 140 sq km of the Onge Tribal Reserve.

South Bay is proposed to be part of the "Leisure Zone" where a film city, a residential district, and a tourism special economic zone are to come up.

The plan identifies coastal development, including construction of ports, jetties, resorts, and industries, as major threats to turtle populations.

The A&N Port Management Board had in 2019 floated an expression of interest for the container transhipment terminal.
Significance of nesting areas
West Bay has been the site of ongoing marine turtle research projects. Satellite telemetry has revealed new unknown migration patterns.

Satellite-tagged female turtles have been tracked swimming up to 13,000 km after nesting on West Bay, towards the western coast of Australia and southwest towards the eastern coast of Africa.