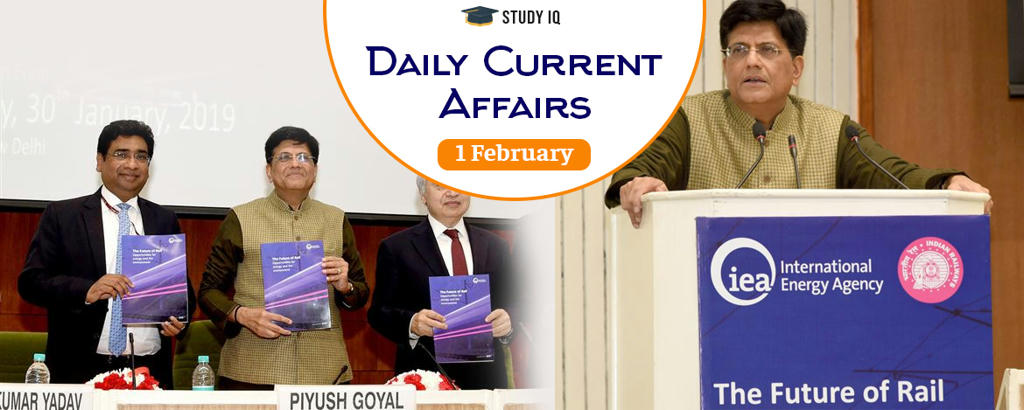 IEA's Report "The Future of Rail" launched
Date: 01 February 2019
Tags: Miscellaneous
International Energy Agency's (IEA's) "The Future of Rail" Report was recently released by IEA Executive Director, Dr Fatih Birol and Union Minister of Railways Piyush Goyal in New Delhi. It is first-of-a-kind global report that analyses current and future importance of rail around world through perspective of its energy and environmental implications.
The Future of Rail Report
It has been prepared by International Energy Agency (IEA) in cooperation with International Union of Railways (UIC).

It is latest in IEA report series highlighting "blind spots" in energy system, which are issues that deserve more attention from policymakers.

According to it rail is among most energy efficient modes of transport for freight and passengers, but it is often neglected in public debate.

It reviews impact of existing plans and regulations on future of rail and explores key policies that could help to realise an enhanced future rail.

It gives special focus on India, elaborating on unique social and economic role of rail in India, together with its great enduring potential.

It also shows how India can extend and update its existing networks to harness rail at scope and scale that is unparalleled.
Background
The transport sector is responsible for almost one-third of final energy demand, nearly two-thirds of oil demand and is responsible for nearly one-quarter of global carbon dioxide (CO2) emissions from fuel combustion. Therefore, changes in transportation are considered as fundamental to achieving energy transitions globally. The rail sector carries 8% of world's passengers and 7% of global freight transport, it represents only 2% of total transport energy demand, highlighting its efficiency. Thus rail sector has potential to provide substantial benefits for energy sector as well as for the environment.
International Energy Agency (IEA)
It is an inter-governmental organization that works to ensure reliable, affordable and clean energy for its 30 member countries and 8 association countries.

It was established in 1974 as per framework of Organisation for Economic Co-operation and Development (OECD) in the wake of 1973 oil crisis after Organization of the Petroleum Exporting Countries (OPEC) cartel had shocked the world with a steep increase in oil prices.

Members: Presently it has 30 member countries and 8 association countries. India is associate member of IEA (not full member).
Headquarters (Secretariat): Paris, France.
Mandate: It was initially dedicated to responding to physical disruptions in oil supply as well as serving as information source on statistics about international oil market and other energy sectors.
Its mission is guided by four main areas ("4Es") of focus: energy security, economic development, environmental awareness (focused on mitigating climate change) and engagement worldwide.

It also seeks to promote rational energy policies, alternate energy sources (including renewable energy) and multinational energy technology co-operation.

It also acts as energy policy advisor to its member countries and also non-member countries like China, India and Russia.

Publications/Reports: World Energy Outlook report.
Relevance: IEA's relevance in global energy governance is manifold as over 70% of world's energy consumption is now under the IEA umbrella.

Besides, it is also important part of global dialogue forum on energy, providing research, statistics/data, analysis and recommendations on the global energy sector.