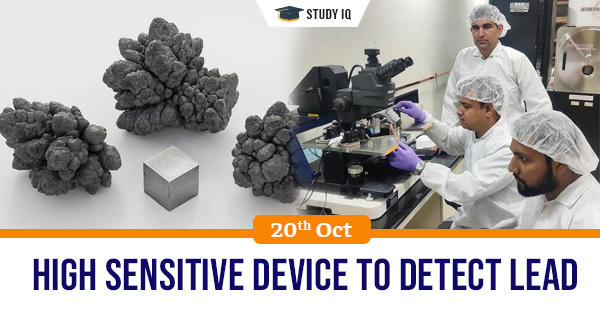 High sensitive device to detect lead
Date: 20 October 2019
Tags: Miscellaneous
Issue
A highly sensitive, portable device that can detect the presence of extremely small quantities of lead in water has been fabricated by a team of researchers from the Indian Institute of Technology (IIT) Jodhpur.
Background
Lead is one of the major component of underground water poollutants, which affects health of consumers. The World Health Organisation limit for lead in drinking water is 5 ppb.
Details
The sensor is highly specific to lead even in the presence of other metals such as mercury, copper, zinc, cadmium and chromium and is extremely fast in detection.

The sensor is multi-usable. As the materials used in the sensor are stable, it can be used several times for real-time monitoring.
Advantages
The sensor can be reused by washing with water. The sensor response time which is the time taken to detect lead , is hardly affected when reused.
Lead pollutant
Lead can enter drinking water when plumbing materials that contain lead corrode, especially where the water has high acidity or low mineral content that corrodes pipes and fixtures.

The most common sources of lead in drinking water are lead pipes, faucets, and fixtures.
Effects of lead
At high levels of exposure, lead attacks the brain and central nervous system to cause coma, convulsions and even death.

Lead exposure also causes anaemia, hypertension, renal impairment, immunotoxicity and toxicity to the reproductive organs.