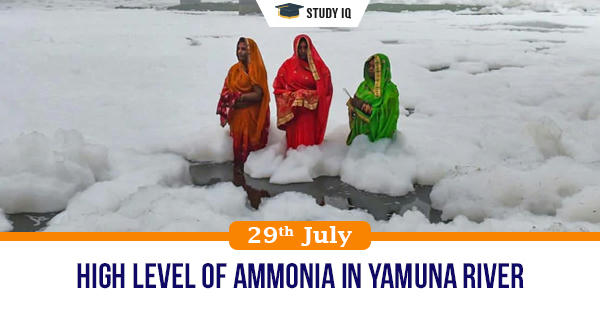 High level of ammonia in Yamuna river
Date: 29 July 2020
Tags: Miscellaneous
Issue
For the second time in a week, the Delhi Jal Board (DJB) had to reduce water production capacity by 25 percent after high levels of ammonia were detected in the Yamuna river.
Background
The level of ammonia in raw water was 1.8 parts per million (ppm). This was significantly less than 3 ppm recorded earlier in the week.
Details
The acceptable maximum limit of ammonia in drinking water, as per the Bureau of Indian Standards, is 0.5 ppm. The DJB presently has the capacity to treat approximately 0.9 ppm.

Ammonia is a colourless gas and is used as an industrial chemical in the production of fertilizers, plastics, synthetic fibres, dyes and other products.

Ammonia occurs naturally in the environment from the breakdown of organic waste matter, and may also find its way to ground and surface water sources through industrial effluents or through contamination by sewage.

If the concentration of ammonia in water is above 1 ppm it is toxic to fishes. In humans, long term ingestion of water having ammonia levels of 1 ppm or above may cause damage to internal organs.

The most likely source is believed to be effluents from dye units, distilleries, and other factories in Panipat and Sonepat districts in Haryana, and also sewage from some unsewered colonies in this stretch of the river.

Water used from the Yamuna for supply to the city is taken before the Wazirabad barrage. Officials of the Delhi Pollution Control Committee (DPCC) claim discharge from industries in Delhi begins after this point.

Stringent implementation of guidelines against dumping harmful waste into the river, and making sure untreated sewage does not enter the water are two things pollution control bodies are expected to do.

The lack of a minimum ecological flow also means accumulation of other pollutants. After water is extracted from the river for treatment in North East Delhi, what flows is mostly untreated sewage from homes, runoff from storm water drains, and effluents from the unregulated industry.