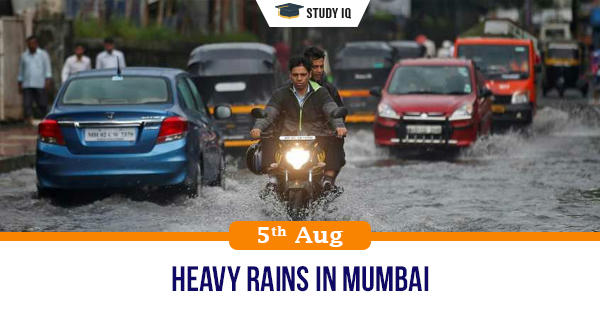 Heavy rains in Mumbai
Date: 05 August 2020
Tags: Miscellaneous
Issue
In a revival of the southwest monsoon over the west coast, continuous rain has been lashing Mumbai and parts of Konkan.
Background
The India Meteorological Department (IMD) has placed five districts, including Mumbai, on a red alert as intense rain is expected during the next few hours, and continuous rain till August 6.
Details
Multiple and simultaneous favourable weather systems are presently active, which have revived the southwest monsoon.

A low-pressure system formed in the Bay of Bengal that has once again pushed the monsoon into its active phase, bringing heavy spells for the west coast.

In addition, the monsoon trough, which now lies at its normal position, is expected to shift southwards which will further intensify rainfall activity in the coming three to four days.

As a result of these two systems, the monsoon winds coming in from the Arabian Sea will strengthen, causing widespread heavy to very heavy rainfall over parts of Mumbai, Ratnagiri, Goa, and Kerala till the end of the week.

With the weather systems likely to remain active, heavy to very heavy rainfall will continue to occur over Mumbai, Raigad, Ratnagiri, Sindhudurg and Palghar districts till August 6.

Ghat areas shall experience extremely heavy spells during the next few days. All these districts have been put on 'red' alert, suggesting occurrence of extremely heavy rainfall.