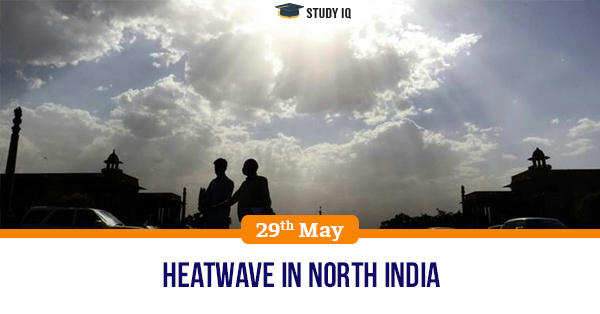 Heatwave in North India
Date: 29 May 2020
Tags: Miscellaneous
Issue
For the past five days, Rajasthan, Delhi, Uttar Pradesh, Madhya Pradesh, and Maharashtra have been experiencing severe to very severe heatwave conditions.
Background
This heatwave has pushed day temperatures significantly above normal, with Churu in Rajasthan reporting 50 degrees .
Details
Meteorologists declare a heatwave event when the maximum (day) temperature for a location in the plains crosses 40 degrees Celsius.

Over the hills, the threshold temperature is 30 degrees Celsius. When the day temperature jumps by 4 to 5 degrees above the normal maximum temperature of a location, it is declared as a heatwave.

For example, if the normal maximum temperature for a location in the plains on a given day should be 40 degrees but records 45 degrees, then that location is experiencing a heatwave.

Alternatively, any location where maximum temperature crosses 45 degrees or shows a departure of over 6 degrees from normal, it is a severe heatwave condition.

A heatwave spell generally lasts for a minimum of four days. On some occasions, it can extend up to seven or ten days.

The longest recorded heatwave spell, in recent years, was between 18 – 31 May 2015. This spell had severely affected parts of West Bengal along with Odisha, Andhra Pradesh, and Telangana.

Heatwave conditions occurring in May have been observed to last longer, as the season reaches its peak this month. Whereas those reported in June often die down sooner, often due to the onset of Southwest monsoon over the location or in its neighbourhood.

Heatwaves are common over the Core Heatwave Zone (CHZ) — Rajasthan, Punjab, Haryana, Chandigarh, Delhi, West Madhya Pradesh, Uttar Pradesh, Chhattisgarh, Orissa, Vidarbha in Maharashtra, parts of Gangetic West Bengal, Coastal Andhra Pradesh and Telangana.

Several recent studies indicate that CHZ experience more than six heatwave days per year during these four months. Many places in the northwest and cities along south-eastern coast report eight heatwave days per season. However, the regions in the extreme north, northeast and south-western India are lesser prone to heatwaves.

This year, north India did not experience heatwave conditions till May 21. It was mainly because of the continuous inflow of Western Disturbances that influenced the weather in the north till as late as April.

When Western Disturbances interact with weather systems heading from the two southern seas, that is, warm winds blowing in from the Bay of Bengal or the Arabian Sea, they cause snowfall or rainfall over the north, thus keeping temperature in check.