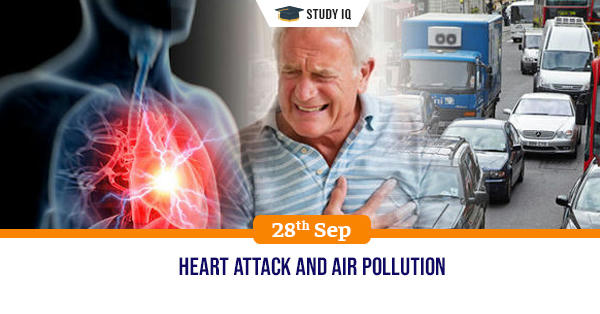 Heart attack and air pollution
Date: 28 September 2019
Tags: Miscellaneous
Issue
Researchers have found that approximately 35% of patients with no conventional risk factors, suffered from cardiovascular diseases (CAD) due to reasons linked to air pollution.
Background
Out of one lakh Indians, about 200 people are prone to heart diseases due to air pollution. More young Indians are vulnerable to heart diseases and air pollution is an emerging risk factor for heart attack.
Details
Air pollution has been exclusively linked only to respiratory diseases. But in recent times, multiple clinical studies have proved the role of air pollution in causing cardiovascular diseases.

The study involved testing people performing various jobs in order to understand risk of heart disease due to the nature of the work.

Special tests were conducted on drivers as they were the most vulnerable among people to air pollution.

The researchers conducted in-depth research on people who did not posses any risk factors who had heart diseases, and discovered that their blood contained higher haemoglobin levels.

The carboxyl haemoglobin doesn't account as a healthy factor, and these were observed especially in drivers who were more exposed to air pollution.
Effects of Air pollution
Long-term health effects from air pollution include heart disease, lung cancer, and respiratory diseases such as emphysema.

Air pollution can also cause long-term damage to people's nerves, brain, kidneys, liver, and other organs. Some scientists suspect air pollutants cause birth defects.
Various pollutants
Carbon monoxide, sulphur oxides, nitrogen oxides, carbon monoxide, volatile organic compounds, particulate matter, CFC, radioactive pollutants.