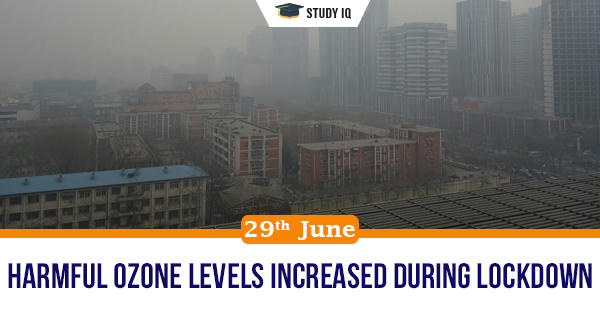 Harmful ozone levels increased during lockdown
Date: 29 June 2020
Tags: Miscellaneous
Issue
The Covid-19 lockdowns cleaned up the air as a large number of economic activities were brought to a standstill. However, new research shows that while NO2 and PM2.5 levels fell during this period, pollution from ozone shot up.
Background
Since the starting of the national lockdown on March 25, pollution from ozone in 22 mega and metropolitan cities in India increased and even breached standards in several cities.
Details
The highly reactive ozone gas (O3) helps protect life when it is in the Earth's stratosphere. There, it forms the ozone layer, which filters ultraviolet radiation from the sun.

In the troposphere (meaning at ground-level), however, ozone acts as a pollutant that can trigger several health problems among vulnerable groups, and is known to be associated with respiratory and cardiovascular diseases.

Along with nitrogen dioxide (NO2) and particulate matter (PM2.5 and PM10), tropospheric ozone is responsible for many of the ill effects caused by outdoor air pollution.

As per the study, as many economic activities stalled during the lockdown, PM2.5 and NO2 levels fell in most cities, and this caught public attention.

However, the maximum standard average of invisible ozone pollution exceeded standard levels in these cities for several days. In at least one measuring station in Delhi-NCR and Ahmedabad, ozone levels were higher than standard values on two-thirds of lockdown days.
Reasons for increase in surface ozone
In many parts of the world, ozone pollution is known to increase during warmer months. It also builds up in cleaner areas.

This happens because ozone is not directly emitted by any source but is formed by photochemical reactions between oxides of nitrogen (NOx) and other volatile organic compounds (VOCs) and gases in the air under the influence of sunlight and heat.

A high NOx level can again react with ozone and mop it up. The ozone that escapes to cleaner areas has no NOx to further neutralise it – and as a result, ozone concentration builds up in these areas. Ozone can be controlled only if gases from all sources are controlled.

Photochemical production of ozone may become more important in urban areas during summertime in these low conditions of oxides of nitrogen.

As nitrogen oxides reduce, photochemical production may become more efficient and can lead to higher ozone concentrations in the summertime.