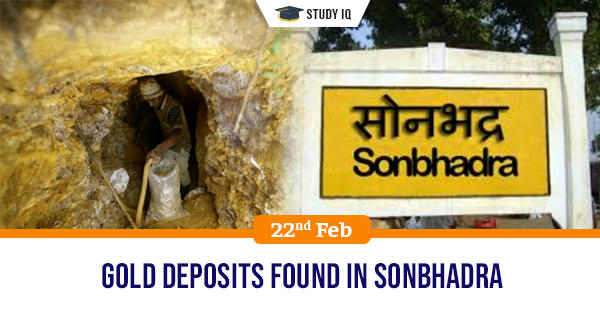 Gold deposits found in Sonbhadra
Date: 22 February 2020
Tags: Miscellaneous
Issue
The Geological Survey of India (GSI) has discovered gold deposits to the tune of around 3,000 tonnes in Sonbhadra district of Uttar Pradesh, almost five times India's current reserve of the yellow metal.
Background
Work on finding gold reserves in Sonbhadra was started almost two decades back in 1992-93 by the Geological Survey of India.
Details
The deposits in Son Pahadi is estimated to be around 2,943.26 tonnes, while that at Hardi block is around 646.16 kilogram.

Officials claimed that the mineral-rich mines of Sonbhadra are easy to dig give their geographical position as they are mostly situated on hillocks.

As per the World Gold Council, India currently has 626 tonnes of gold reserves. The new reserves are almost five times that amount and estimated to be worth nearly Rs 12 lakh crore.

Sonbhadra is the second largest district of Uttar Pradesh and is the only district in the country which shares borders with four states, Madhya Pradesh to the west, Chhattishgarh to the south, Jharkhand to the south-east and Bihar to the east.

The discovery of the two mines is expected to give a considerable boost to the state's revenue. Not only will it provide skilled and unskilled labour, but could lead to much-needed development of backward regions in the two districts.

Presently the only producing gold mines in India are located at Hutti in Karnataka that produce about two tonnes of gold annually. Apart from that gold deposits have been found in Andhra Pradesh and Jharkhand.