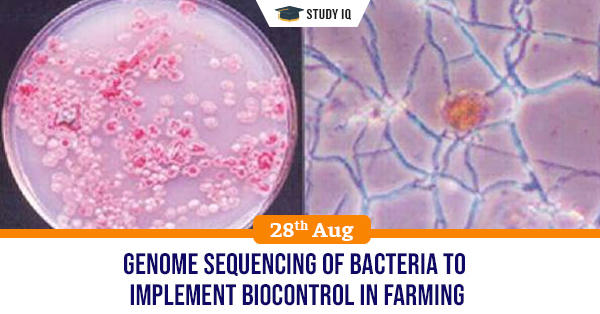 Genome sequencing of bacteria to implement biocontrol in farming
Date: 28 August 2019
Tags: Miscellaneous
Issue
Scientists at the Jawaharlal Nehru Tropical Botanic Garden and Research Institute (JNTBGRI) have completed the whole genome sequencing of a rare bacteria capable of producing antifungal and insecticidal compounds thus opening up the potential to develop a new line of products for biocontrol applications in agriculture.
Background
Biological control or biocontrol is a method of controlling pests such as insects, mites, weeds and plant diseases using other organisms. It relies on predation, parasitism, herbivory, or other natural mechanisms, but also involves an active human management role.
Details
The team of researchers have isolated some strains of actinomycetes (a kind of hairy bacteria) from the forest soils of the Neyyar wildlife sanctuary, one of the 12 mega diversity centres in the world. One of the isolates was identified as Streptosporangium nondiastaticum reported to have antimicrobial properties.

Bioinformatics analysis showed that the genome contains a plant chitinase, an enzyme, capable of degrading fungi and insect exoskeleton.

The scientists have cloned the gene and engineered the recombinant protein.The strain can produce metabolytes that are toxic to plant pathogens, making it a candidate for biocontrol applications.

The work also revealed that the floods had altered the soil microbial composition. It showed the presence of a high number of plant pathogenic fungi in the region which could be suitably used for biocontrolling.
Effects of Biocontrol
Biological control agents of weeds include seed predators,

herbivores

and plant pathogens.

Biological control can have side-effects on

biodiversity

through attacks on non-target species by any of the same mechanisms, especially when a species is introduced without thorough understanding of the possible consequences.