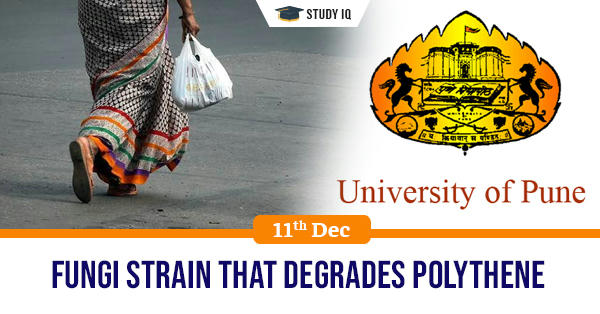 Fungi strain that degrades polythene
Date: 11 December 2019
Tags: Miscellaneous
Issue
Scientists from Pune University have identified fungi which can potentially help degrade polythene and emerge as an answer to the plastic pollution crisis.
Background
India generates more than 25,000 tonnes of plastic waste every day, 40 per cent of which remains uncollected. According to various researchers, it takes about 1,000 years to decompose a PET bottle in natural environmental conditions.
Details
From the soil samples collected, root-soil where microorganisms colonise, the scientists found 'Aspergillus terreus' and 'Aspergillus sydowii' fungi strain that are efficient polythene degraders.

The 'Aspergillus sydowii ' fungi strain showed 94 per cent reduction in tensile strength of polythene.

To utilise these elite polythene degrading fungi at mass level, there is a need to check their efficiency at in vivo level (in life). If at in vivo level significant results are obtained, then it can be recommended to be used to combat plastic pollution at a mass level.

The paper also lists the available options for polythene disposal such as incineration, recycling, production of biodegradable plastic, and use of plastic in construction of roads.

It also states that each of these methods has either deteriorating effects on the environment or needs to be studied economically.

Among all the methods, biodegradation is considered the most accepted and eco-friendly method.

Scientists around the world have identified fungi, microbes and bacteria that are effective in degrading plastic.

But the scientists found that the two fungi isolates found are more effective than others reported from across the world.

The researchers also investigated products obtained from polythene degradation. The effect of the products on certain organisms was found to be least toxic.