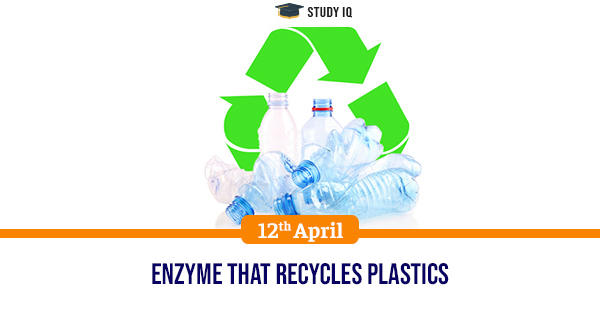 Enzyme that recycles plastics
Date: 12 April 2020
Tags: Miscellaneous
Issue
Scientists have engineered a mutant enzyme that converts 90 percent of plastic bottles back to pristine starting materials that can then be used to produce new high-quality bottles in just hours.
Background
The discovery could revolutionize the recycling industry, which currently saves about 30 percent of PET plastics from landfills.
Details
The mutant enzyme broke down 90% of 200 grams of PET in a small reactor in just 10 hours. Different colors didn't matter because the enzyme can ignore dyes and other plastics in the molten mix.

The researchers were able to use the resultant chemical building blocks to produce new PET and food-grade plastic bottles that were just as strong as those made from virgin plastics.

The enzyme costs just 4% of what virgin plastic made from oil costs. The enzyme cannot be added to waste plastic until it is ground up and melted, however, so the recycled PET is still more expensive than virgin plastic.

Poly(ethylene terephthalate) (PET) is the plastic used in soda bottles, textiles and packaging. With almost 70 million tons manufactured annually worldwide, it is also the most abundant polyester plastic because it is strong and lightweight.

Unfortunately, current PET recycling is inefficient. When plastics of different colors are melted down during the recycling process, a gray or black plastic starting material results that few companies want to purchase to package their products.

The process results in low-grade plastic fibers only good enough for clothing and carpets. These eventually end up in a landfill or incinerated.

For years, scientists at the forefront of the cultural war on plastic waste have searched for microbial enzymes that could break down PET and other plastics.