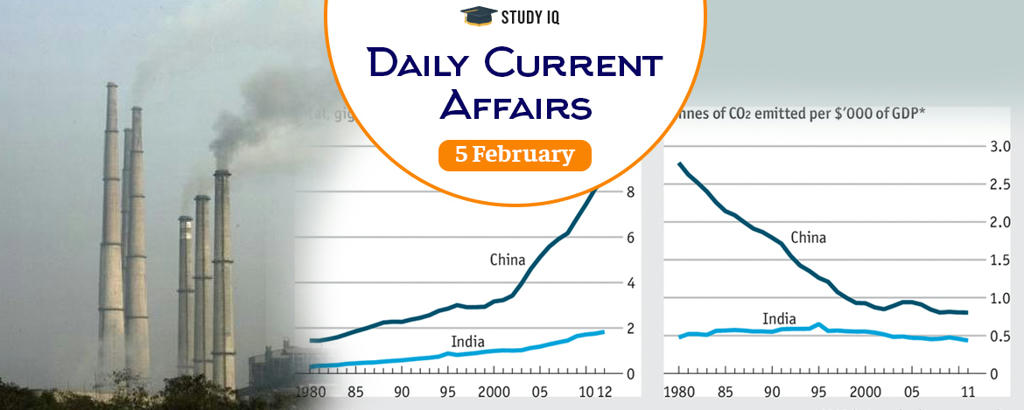 Emission levels rising faster in Indian cities than in China: Study
Date: 05 February 2019
Tags: Miscellaneous
According to recent study, urbanisation is accelerating greenhouse gas (GHGs) emissions from vehicles in India at faster rate than in China. This study has analysed link between population density and emissions from transport, across India's districts.
Findings of Study
In China, a 1% increase in urbanisation was linked with 0.12% increase in CO2 emissions whereas, in India, it translated into 0.24% increase in emissions.

Comparison with most developed countries: Urbanisation in most developed countries led to reduction in emissions i.e. more urbanisation meant shorter distances between workplace and home and thereby, preference is for public transport. However, this is not case with developing countries.
India's overall Emissions: On an average, Indian emitted about 20 kg per capita while commuting for work, with highest (140 kg CO2) in Gurugram district (Haryana) and lowest (1.8 kg CO2) in Shrawasti district (Uttar Pradesh).
In total, India's transport patterns are very climate friendly and much better than those of Europe and United States.

India's CO2 emission have grown estimated 4.6% in 2017 and its per-capita emission was about 1.8 tonnes, much lower than world average of 4.2 tonnes (India is 4th largest emitter after US, China, EU).

Delhi: It has highest commuting emissions per capita in transporation (this factor also contributed to its high level of pollution) and national capital region (NCR) had 2.5 times higher commuting emissions as compared to other Indian megacities viz. Mumbai, Chennai, Kolkata, Bangalore and Hyderabad.
Delhi's higher socio-economic status and heavy reliance on private travel modes are main reasons for higher commuting emissions than in other megacities.
Fuel price hikes: It is not always the key strategy to mitigate commuting emissions as Indian districts have least commuting emissions and low socio-economic status.
Solutions: India should focus on electric vehicles (EVs) and efficient public transit system to curb emissions from transportation.