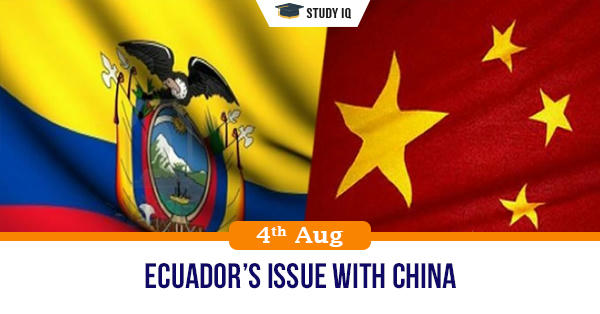 Ecuador's issue with China
Date: 04 August 2020
Tags: Miscellaneous
Issue
Ecuador was on alert earlier this week as a flotilla of mostly Chinese fishing vessels– what some called a "floating city"– was sighted near the Galapagos archipelago.
Background
The Galapagos archipelago is a UNESCO World Heritage Site, whose aquatic species such as manta rays and sharks have been endangered by commercial fishing.
Details
The Galapagos Islands are a part of Ecuador, and are located in the Pacific Ocean around 1,000 km away from the South American continent. Every year, Ecuador faces the challenge of protecting its natural habitat from Chinese vessels.

The flotilla was detected in an international water corridor situated between two areas of Ecuadorian jurisdiction– 200 miles away from both the Galapagos Islands and mainland Ecuador.

In 2017, when a Chinese ship did enter Ecuador's waters, its authorities seized it and discovered 300 tonnes of wildlife on board, mostly the critically endangered scalloped hammerhead sharks – a delicacy in China.

Chinese ships frequent Ecuador's waters this time of the year when the cold Humboldt Current brings in nutrients that lead to a high congregation of marine species.

Chinese vessels have also run into trouble with other countries in the region. In 2016, Argentina's coast guard chased and sank a vessel that it claimed had been illegally fishing in the South Atlantic.
Galapagos islands
Renowned worldwide for its unique species, the islands host a wide array of aquatic wildlife, including marine iguanas, fur seals, and waved albatrosses. The giant tortoises found here – 'Galápagos' in old Spanish– give the islands its name.

Ecuador made a part of the Galapagos a wildlife sanctuary in 1935, and the sanctuary became the Galapagos National Park in 1959. In 1978, the islands became UNESCO's first World Heritage Site.

It was here that the British naturalist Charles Darwin made key observations in 1835 that shaped his theory of evolution. Darwin described the islands as a "world in itself".