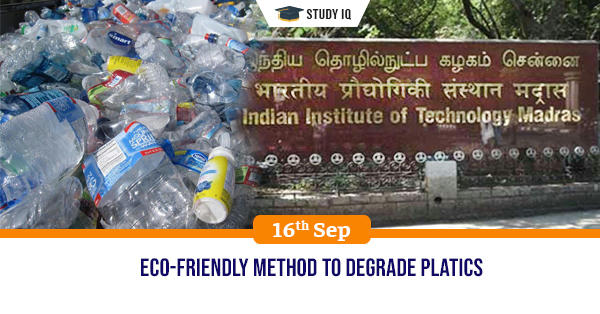 Eco-friendly method to degrade platics
Date: 16 September 2019
Tags: Miscellaneous
Issue
A team from IIT Madras has demonstrated an environment-friendly strategy to degrade the chemically inert and physically stable plastic fluoropolymer , polytetrafluoroethylene (PTFE), which is used in making teflon.
Background
The chemical structure of most plastics renders them resistant to many natural processes of degradation and as a result they are slow to degrade. Together, these two factors have led to a high prominence of plastic pollution in the environment.
Details
The researchers used a magnetic stirrer coated with Teflon to continuously stir for several days the water mixed with glucose in a glass beaker containing a gold foil.

The team tested Teflon in different forms such as pellets, tapes and plates. They repeated the experiment using a Teflon beaker and tried different metals too and still got the same result each time.

Glucose added to water first leaches out ions from the metal surface. When the PTFE-coated magnetic pellet is continuously rotated, triboelectric charges get generated on the pellet. The PTFE gets negatively charged.

The negative charge on the PTFE surface attracts the metal ions that have been leached out. The interaction between the metal ions and PTFE results in metal-polymer bonding, causing the carbon-carbon bonds to destabilise and results in PTFEs degrading into molecules.

The researchers have also expressed doubt that,Triboelectric degradation of PTFE, polypropylene and other polymers might be occurring in nature in large water bodies such as oceans where metal ions are found in abundance and waves provide constant agitation.

They assume that this is may be the reason for abundance of microplastics in the ocean.