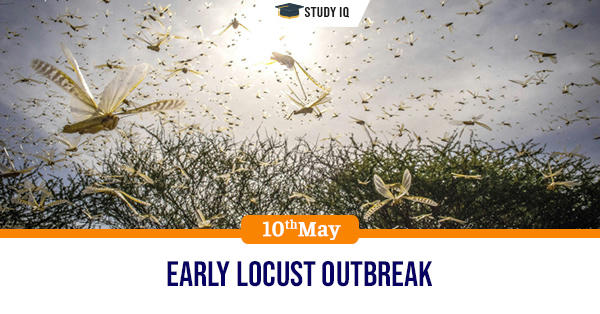 Early locust outbreak
Date: 10 May 2020
Tags: Miscellaneous
Issue
Scientists at the Locust Warning Organisation (LWO) observed groups of grasshoppers at Sri Ganganagar and Jaisalmer districts of Rajasthan. These were desert locusts, the same destructive migratory pests currently devouring acres of maize, sorghum and wheat crops in East Africa.
Background
While locusts are seen in India as well, that is normally only during July-October and mostly as solitary insects or in small isolated groups.
Details
The desert locust (Schistocerca gregaria) is a short-horned grasshopper that is innocuous while it is in a "solitary phase" and moving about independently.

These winged insects differ from normal hoppers, and become dangerous only when their populations build up rapidly and the close physical contact in crowded conditions triggers behavioural changes.

They, then, enter the "gregarious phase", by grouping into bands and forming swarms that can travel great distances (up to 150 km daily), while eating up every bit of vegetation on the way.

If not controlled at the right time, these insect swarms can threaten the food security of countries. Kenya is already reporting its worst locust outbreak in 70 years, while Ethiopia and Somalia haven't seen one this bad in quarter of a century.

The normal breeding season for locusts in India is July-October. But this time, they have been sighted by mid-April. Last year, too, they were seen towards end-May as isolated grasshoppers.

They could, nevertheless, breed to high enough populations for forming swarming and wreaking havoc during the rabi season in Rajasthan and Gujarat.

The longer time to breed is more conducive for build-up of gregarious insect swarms, as opposed to solitary, innocuous hoppers.

Locusts are polyphagous, i.e. they can feed on a wide variety of crops. Secondly, they have an ability to multiply rapidly. A single female desert locust lays 60-80 eggs thrice during its roughly 90-day life cycle.

The damage potential of locusts has been limited in India only because of the country hosting a single breeding season — unlike Pakistan, Iran and East Africa, where they also multiply during January-June.

The reason for increasing population lies in the Mekunu and Luban cyclonic storms of May and October 2018 that struck Oman and Yemen, respectively.

These turned large desert areas in remote parts of the southern Arabian Peninsula into lakes, which allowed the insects to breed undetected across multiple generations.