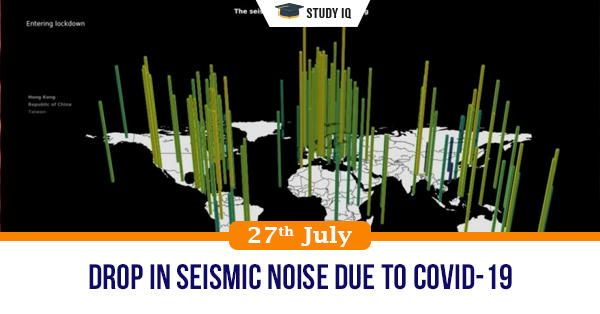 Drop in seismic noise due to Covid-19
Date: 27 July 2020
Tags: Miscellaneous
Issue
The ongoing Covid-19 pandemic has brought the world to a grinding halt and high-frequency noise generated by industrial plants, traffic, and other human activities fell sharply during a period marked by lockdowns and social isolation.
Background
Soon after the COVID-19 pandemic was declared a global health emergency earlier this year, countries across the world responded by imposing stringent lockdown measures and enforcing social distancing norms.
Details
A team of seismologists studied the impact of the coronavirus pandemic on noise-levels worldwide and found that high-frequency noise caused by human activities dropped by as much as 50 percent between March and May, this year.

The period of quiet induced by this global health crisis is the longest and most prominent noise reduction on record.

The team analysed data collected from 268 seismic sensors located across 117 countries, and found that human-generated noise had fallen significantly in 185 of them.

The most substantial declines were observed in highly-populous urban areas like Singapore and New York as well as tourist hotspots like Barbados and in European ski resorts.

Seismic noise refers to vibrations within the Earth, which are triggered by natural and man-made phenomena like earthquakes, volcanoes, and bombs. Seismometers, specialised devices that record ground motions, also capture seismic noise.

Everyday human activity such as road traffic, manufacturing in factories, the sound produced by planes, or simply people walking down the street also generates seismic noise, which is recorded as a near-continuous signal on seismometers.

The sound signals created by human beings are often referred to as anthropogenic seismic noise.

Many scientists have noticed favourable changes in the environment, such as reductions in nitrous oxide emissions and improved air quality, due to the pandemic.

But the team of seismologists from around the world has found that the coronavirus outbreak also resulted in unparalleled noise reduction globally.

Low noise levels of background noise during COVID-19 lockdowns could thus allow detection of signals from new sources in areas with incomplete seismic catalogs.