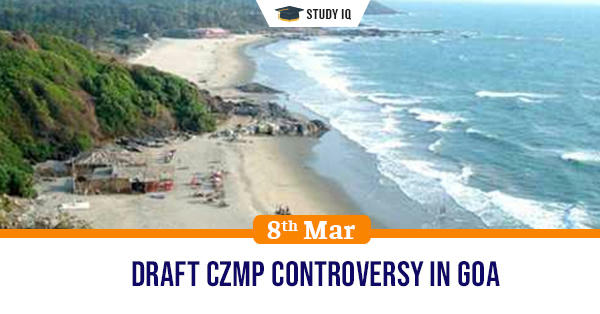 Draft CZMP controversy in Goa
Date: 08 March 2021
Tags: Miscellaneous
Issue
The formation of Coastal Zone Management Plan has by National Centre for Sustainable Coastal Management has created controversy in Goa.
Background
Many locals, environmentalists and political parties of Goa have opposed the notification.
Details
The discontent is regarding number of issues such as the duration of responding to the draft, re-zoning of beach areas and giving patronage to illegal constructions.
CZMP
The CZMP was aimed to secure the livelihood of the fishing communities and other local people living in coastal areas, conserving and protecting coastal land, its unique environment and marine regions and promote growth in a sustainable manner.

The CRZ notification of 2011 declared that coastal areas of the country, excluding Andaman &Nicobar island and Lakshadweep islands, as Coastal Regulation Zone (CRZ).

The CRZ notification prevented setting up of new industries or expansion of existing ones. It also stopped manufacturing and storing of hazardous substances in these areas.

The state governments were given the responsibility to prepare a CZMP plan by identifying and classifying CRZ.

The draft report indicates that the primary idea of CZMP is to describe plans that would be implemented by public authority or private sector in order to manage Coastal zones.
Reason for opposition
Environmental and local groups have visibly been upset over the notification of CZMP. They state that the 30 day limit for suggestion and feedback was a violation of 60 day provision given by the Environment Protection Rules, 1986.

The CZMA has provided new maps for village development without examining. This has resulted in many errors, which were earlier pointed out by villagers.

The modifications in the plan, that allow for illegal construction is alleged to be indirect influence of politicians and other powerful groups.

Many local villagers of South Goa have alleged that their houses and Churches have been left out of the CZMP plans.

The opposition parties have alleged that the ruling party has been holding public hearing only because of procedures and there was no good intention behind the move.