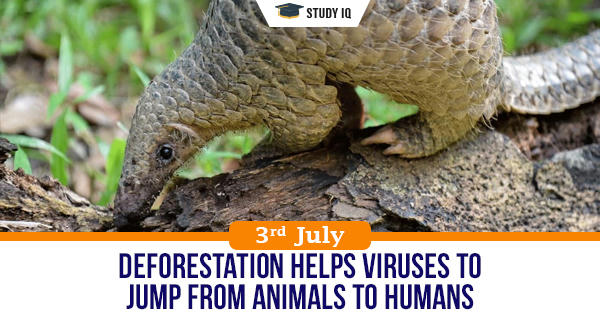 Deforestation helps viruses to jump from animals to humans
Date: 03 July 2020
Tags: Miscellaneous
Issue
The coronavirus pandemic, suspected of originating in bats and pangolins, has brought the risk of viruses that jump from wildlife to humans into stark focus.
Background
These leaps often happen at the edges of the world's tropical forests, where deforestation is increasingly bringing people into contact with animals' natural habitats.
Details
Yellow fever, malaria, Venezuelan equine encephalitis, Ebola – all of these pathogens have spilled over from one species to another at the margins of forests.

As the forest is degraded, animals still living in isolated fragments of natural vegetation struggle to exist.

When human settlements encroach on these forests, human-wildlife contact can increase, and new opportunistic animals may also migrate in.

The virus that causes Yellow Fever lives in primates and is spread by mosquitoes that tend to dwell high in the canopy where these primates live.

Shrinking habitat has been shown to concentrate howler monkeys – one of the main South American yellow fever hosts. A study on primate density in Kenya further demonstrated that forest fragmentation led a greater density of primates, which in turn led to pathogens becoming more prevalent.

Deforestation resulted in patches of forest that both concentrated the primate hosts and favored the mosquitoes that could transmit the virus to humans.

Similarly, scientists have extensively documented the associations between deforestation and malaria in the Amazon, showing how the malaria-carrying mosquitoes and human malaria cases are strongly linked to deforested habitat.

Studies have shown that deforestation and forest fragmentation were associated with outbreaks of Ebola between 2004 and 2014.

In addition to possibly concentrating Ebola wildlife hosts, fragmentation may serve as a corridor for pathogen-carrying animals to spread the virus over large areas, and it may increase human contact with these animals along the forest edge.

While many species disappear as forests are cleared, others have been able to adapt. Those that adapt may become more concentrated, increasing the rate of infections.