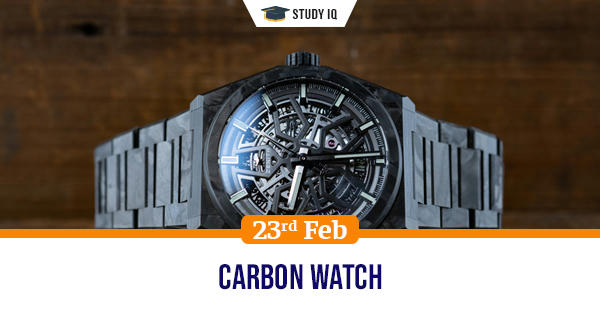 Carbon watch
Date: 23 February 2021
Tags: Miscellaneous
Issue
Chandigarh became the first state or Union Territory in India to launch Carbon Watch, a mobile application to assess the carbon footprint of an individual.
Background
Although the app can be accessed by everyone, it has specific options for the residents of Chandigarh to compile a detail study.
Details
Carbon footprint is the amount of greenhouse gases-especially carbon dioxide-released into the atmosphere by a particular human activity.

Individual will need to fill details in four parts — Water, Energy, Waste Generation, and Transport (Vehicular movement). In the category of Water, the person will be required to inform about the consumption of water.

In the Energy category, the details regarding the electricity units consumed every month at the house, monthly bill etc and usage of solar energy will have to be furnished.

In the Waste category, the individual will need to inform about the waste generation on their part and their family.

In the transport section, the individual will have to inform about the mode of transport used by them- four wheeler, two-wheeler or bicycle.

With the mentioned information, the mobile application will automatically calculate the carbon footprint of the individual.

The application will also provide information such as the national and world average of the emission, and the individual's level of emission generation.
Reason for the app
The mobile application will suggest methods to reduce the carbon footprints. The application will suggest ways as per the information furnished by the individuals.

It also suggests remedial actions and sensitises people about their lifestyle emissions, their impact, and possible countermeasures to mitigate the same.