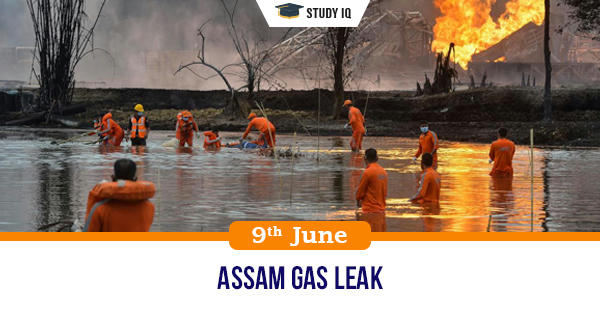 Assam gas leak
Date: 09 June 2020
Tags: Miscellaneous
Issue
Natural gas has been continuously flowing out of a gas well in Assam following a sudden, uncontrolled release of gas/oil.
Background
The gas is a mix of propane, methane, propylene and other gases. It is causing symptoms such as burning of eyes, headache etc to people around the area.
Details
The Baghjan 5 well is a purely gas-producing well in Tinsukia district, and is at an aerial distance of 900 metres from the Dibru-Saikhowa National Park. It was drilled by Oil India Limited (OIL) in 2006.

The blowout happens if the pressure balance in a well may be disturbed leading to 'kicks' or changes in pressure. If these are not controlled in time, the 'kicks' can turn into a sudden blowout.

In the recent past, two comparable blowouts have happened in Assam: at an OIL-owned oil well in Dikhom (Dibrugarh) in 2005 and an ONGC-owned oil well in Rudrasagar in the 1970s.

The control of a blowout depends on two things: the size of the reservoir and the pressure at which the gas/oil is flowing out. This reservoir was particularly difficult to control since it was a gas well and ran the risk of catching fire at any point.

While many blowouts automatically collapse on their own, it can take up to months. To control a blowout, the first step is to pump in water, so that the gas does not catch fire.
Dibru-Saikhowa National Park
Dibru-Saikhowa National Park is a national park in Assam, located in Dibrugarh and Tinsukia districts. It was designated a Biosphere Reserve in July 1997.

The park is bounded by the Brahmaputra and Lohit Rivers in the north and Dibru River in the south. It mainly consists of moist mixed semi-evergreen forests, moist mixed deciduous forests, canebrakes and grasslands.

It is the largest salix swamp forest in north-eastern India, with a tropical monsoon climate with a hot and wet summer and cool and usually dry winter.