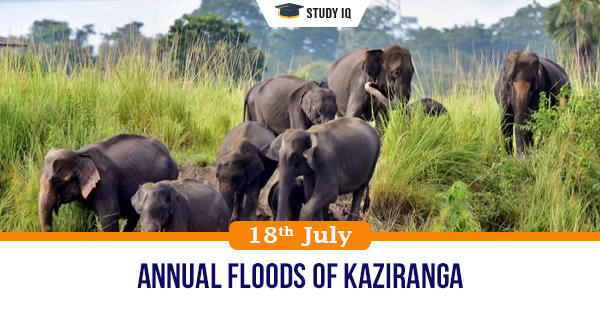 Annual floods of Kaziranga
Date: 18 July 2020
Tags: Miscellaneous
Issue
As a fresh wave of floods ravages Assam, 85 percent of the Kaziranga National Park and Tiger Reserve (KNPTR) remains submerged.
Details
Assam is traditionally flood-prone, and the KNPTR sandwiched between the Brahmaputra river and the Karbi Anglong Hills is no exception.

The system won't survive without water. The entire area of Kaziranga formed by alluvial deposits from the Brahmaputra and its tributaries is centred around the river.

The regenerative nature of floods helps replenish Kaziranga's water bodies and maintain its landscape, a mix of wetlands, grasslands, and semi-evergreen deciduous forests.

The floodwaters also function as a breeding ground for fish. The same fish are carried away by the receding waters into the Brahmaputra.

The waters also help get rid of unwanted plants such as water hyacinth which collect in huge masses in the landscape. If it were not for the annual floods, the area would become woodland.

Many also believe that floods are a way of natural selection. A number of animals especially the old, weak cannot survive the floods. Only the ones with superior genes survive.

Massive deforestation in catchment areas or the release of waters by dams upstream may be contributory factors towards increasing the severity of floods. Climate change models, too, predict that floods will become increasingly devastating with each year.

Preparedness begins a month before floods hit. The authorities keep a track of updates from the Central Water Commission and monitor water levels of the Brahmaputra tributaries upstream in Arunachal Pradesh.

Kaziranga, with its rich grassland habitats, has a primary role to play in supporting these wildlife populations, but the highlands of Karbi Anglong, where these animals take refuge, are the lifeline of the park during the floods.