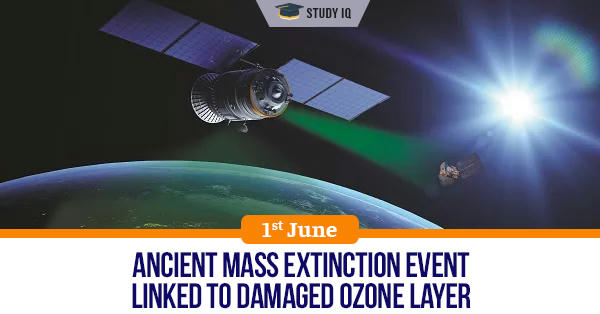 Ancient mass extinction event linked to damaged ozone layer
Date: 01 June 2020
Tags: Miscellaneous
Issue
A team of scientists conducted a sophisticated quantitative analysis of a mass extinction that occurred 215 million years ago and found that the cause of the extinction was not an asteroid or climate change but destruction of ozone layer.
Background
The research, based on paleontological field work carried out in sediments 227 to 205 million years old in Petrified Forest National Park, Arizona.
Details
The global extinction of ancient Late Triassic vertebrates – the disappearance of which scientists call the Adamanian/Revueltian turnover – had never previously been reconstructed satisfactorily.

Some researchers believed the extinction was triggered by the Manicouagan Impact, an asteroid impact that occurred in Quebec 215.5 million years ago, leaving a distinctive 750-square-mile lake.

Others speculated that the extinction was linked to a hotter and drier climate that occurred at about the same time.

In the end, researchers concluded that neither the asteroid impact nor the climate change had anything to do with the extinction, and that the extinction was certainly not as it had been described – abrupt and synchronous.

Researchers applied several Bayesian statistical algorithms to create "a probabilistic estimate" of when the animals most likely went extinct.

This method allowed for an unusually precise assessment of the likelihood that the Adamanian vertebrates in the ancient ecosystem went extinct dramatically and synchronously, as would be expected with an asteroid impact.

Researchers believe it will be difficult to apply these quantitative methods to calculate other mass extinctions because equally rich fossil data and precise radiometric dates for them aren't available at other sites and for other time periods.