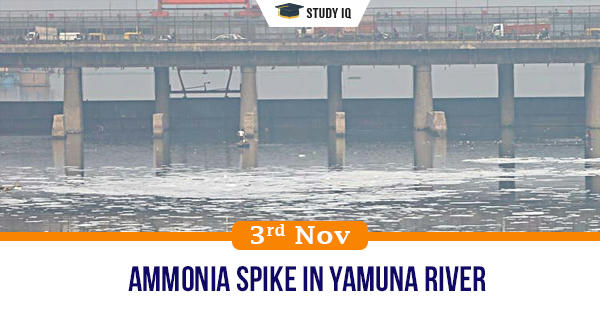 Ammonia spike in Yamuna river
Date: 03 November 2020
Tags: Miscellaneous
Issue
Water supply was affected in parts of Delhi after a spike in pollutants in the river Yamuna led to a temporary closure of two water treatment plants.
Background
Ammonia levels in the river have reached nearly 3 parts per million (ppm), almost six times above the acceptable limit of 0.5ppm.
Details
Ammonia levels increase frequently in the Yamuna in Delhi. Officials have credited this spike to industrial effluents and sewage released into the river in different parts of Haryana.

This was caused as freshwater from the Ganga was not available to mix with raw Yamuna water, which still had high concentration of ammonia.

The National Green Tribunal has previously made efforts for ensuring clean water and air for residents of National Capital.
National Green Tribunal Act
The National Green Tribunal Act, 2010 creates a special tribunal to handle the expeditious disposal of the cases pertaining to environmental issues.

It draws inspiration from the India's constitutional provision of India Article 21 Protection of life and personal liberty, which assures the citizens of India the right to a healthy environment.

The Tribunal's dedicated jurisdiction in environmental matters shall provide speedy environmental justice and help reduce the burden of litigation in the higher courts.

The Tribunal shall not be bound by the procedure laid down under the Code of Civil Procedure, 1908, but shall be guided by principles of natural justice.

The tribunal is mandated to make efforts for disposal of applications or appeals finally within 6 months of filing of the same.

Initially, the NGT is proposed to be set up at five places of sittings and will follow circuit procedure for making itself more accessible; New Delhi is the Principal Place of Sitting of the Tribunal, and Bhopal, Pune, Kolkata, and Chennai shall be the other place of sitting of the Tribunal.

The Chairperson of the NGT is a retired Judge of the Supreme Court. Other Judicial members are retired Judges of High Courts.

Each bench of the NGT will comprise at least one Judicial Member and one Expert Member. Expert members should have a professional qualification and a minimum of 15 years experience in the field of environment/forest conservation and related subjects.

The NGT deals with civil cases under the seven laws related to the environment, these include:
The Water (Prevention and Control of Pollution) Act, 1974,

The Water (Prevention and Control of Pollution) Cess Act, 1977,

The Forest (Conservation) Act, 1980,

The Air (Prevention and Control of Pollution) Act, 1981,

The Environment (Protection) Act, 1986,

The Public Liability Insurance Act, 1991 and

The Biological Diversity Act, 2002.