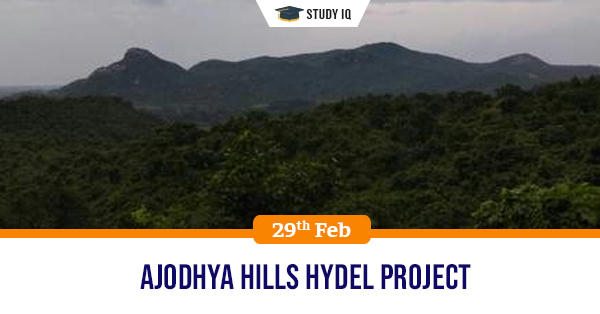 Ajodhya Hills hydel project
Date: 29 February 2020
Tags: Miscellaneous
Issue
Tribals opposed to a proposed hydel power project in the remote Ajodhya Hills in West Bengal have threatened to heighten their protests.
Details
According to the Forest Rights Act, 2006 if a forest land has to be acquired, then at least 50% of the affected population dependent on the land has to give consent in gram sabha, and a third of the villagers have to be women.

The villagers protesting against the project refer to the 900 MW Purulia Pumped Storage Project (PPSP) that came up at Ajodhya Hills in the Baghmundi block of Purulia district around a decade ago. The villagers allege that it lead to massive loss of vegetation and hundreds of tribals lost their livelihoods.
Ajodhya Hills
Ajodhya Hills is a small plateau with hilly surroundings located in the Purulia district of the state West Bengal.

It is the easternmost part of the Chhotanagpur Plateau and extended part of Eastern Ghats range. Highest peak of Ajodhya Hills is Chamtaburu.

The hills are largely inhabited by Santals, an ethnic tribe with a population of over 25,00,000 (25 lakh) across West Bengal.

The tribe speaks Santali, an Austroasiatic language that is the most widely-spoken of the Munda languages.

The Turga Pumped Storage Project (TPSP) aims to utilise the waters of the Turga, a tributary of the Subarnarekha river, for peak power generation on a pumped storage type development.