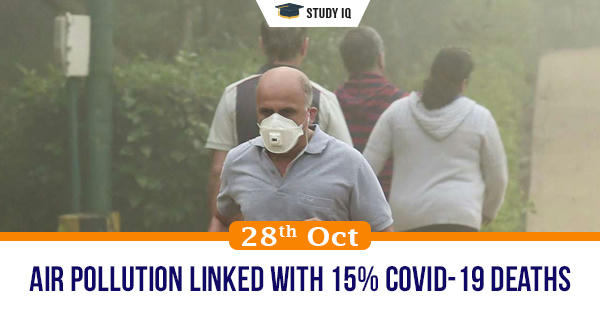 Air pollution linked with 15% Covid-19 deaths
Date: 28 October 2020
Tags: Miscellaneous
Issue
According to a new study, about 15 percent of deaths worldwide from COVID-19 may be linked to long-term exposure to air pollution.
Background
Researchers found that in Europe the proportion of COVID-19 deaths linked to air pollution was about 19 percent, in North America it was 17 percent, and in East Asia about 27 percent.
Details
The study is the first to estimate the proportion of deaths from the coronavirus that could be attributed to the exacerbating effects of air pollution for every country in the world.

The team noted that these proportions are an estimate of the fraction of COVID-19 deaths that could be avoided if the population were exposed to lower air pollution levels.

This attributable fraction does not imply a direct cause-effect relationship between air pollution and COVID-19 mortality.

Instead it refers to relationships between two, direct and indirect, i.e. by aggravating co-morbidities, or other health conditions, that could lead to fatal health outcomes of the virus infection.

The researchers used epidemiological data from previous US and Chinese studies of air pollution and COVID-19 and the SARS outbreak in 2003, supported by additional data from Italy.

The researchers created a model to calculate the fraction of coronavirus deaths that could be attributable to long-term exposure to PM2.5.

When people inhale polluted air, the very small polluting particles, the PM2.5, migrate from the lungs to the blood and blood vessels, causing inflammation and severe oxidative stress.

The COVID-19 virus also enters the body via the lungs, causing similar damage to blood vessels, and it is now considered to be an endothelial disease.

If both long-term exposure to air pollution and infection with the COVID-19 virus come together then we have an additive adverse effect on health, particularly with respect to the heart and blood vessels, which leads to greater vulnerability and less resilience to COVID-19.