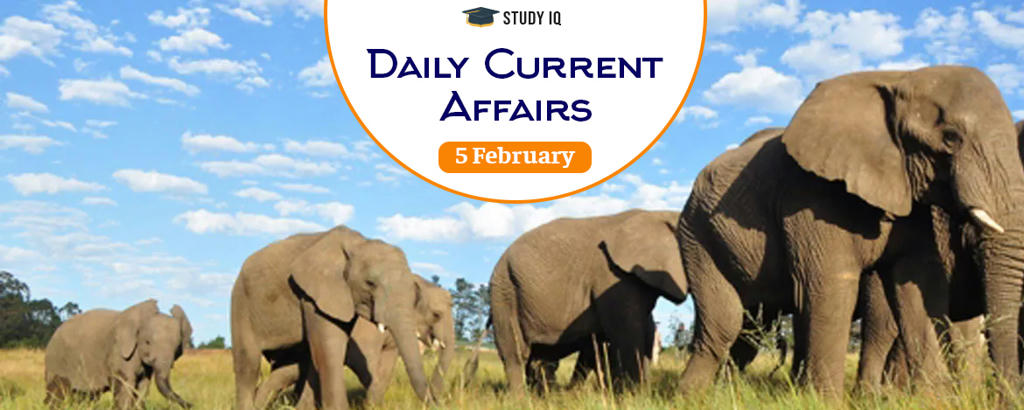 Asian Elephant Alliance launches initiative to secure elephant corridors
Date: 05 February 2019
Tags: Miscellaneous
Asian Elephant Alliance has launched initiative raise to £20 million (Rs.187.16 crore) to secure 96 remaining elephant corridors, old and new across the country in the next ten years. These 96 elephant corridors are out of total 101 identified corridors used by elephants across 12 States in India. Five corridors- two in Meghalaya and one each in Assam, Kerala, and Karnataka already have been secured by Wildlife Trust of India (WTI) with help of conservation partners and support of State governments.
Asian Elephant Alliance
It is umbrella of five NGOs-Elephant Family, International Fund for Animal Welfare (IFAW), IUCN Netherlands, World Land Trust (WLT) and Wildlife Trust of India (WTI).

It was launched on July 2015 in London, United Kingdom.

It aims to secure safe passage for India's elephants, which comprise approximately half of the world's wild Asian elephant population and reduce human-elephant conflict.

It seeks to build 100 habitat corridors across India over next 10 years, linking up fragmented areas of elephant home ranges and allowing safe passage for India's elephants.

These NGOs have joined hands to raise money from governmental, non-governmental and corporate bodies for securing land in elephant corridors.
Background
Every year, India loses nearly 400 people and about 50 elephants to man-animal conflict due to ever shrinking habitat of animal. While most of tiger habitat falls within protected area, only 22% of elephant habitat has some kind of protection. Majority of elephant population in country is living around human dominated landscapes which have become hotbeds of human elephant conflict. Besides, elephants are also facing threat of extinction form habitat loss, along with ivory poaching.