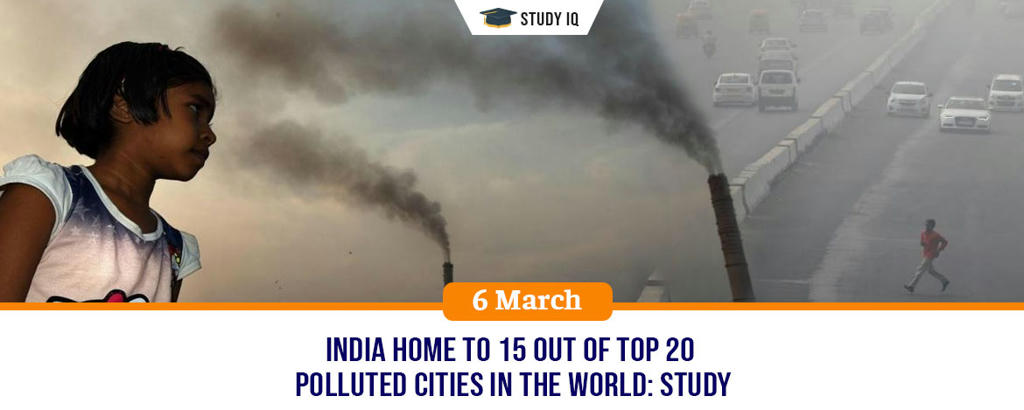 India home to 15 out of top 20 polluted cities in the world: Study
Date: 06 March 2019
Tags: Miscellaneous
According to recently released IQAir AirVisual 2018 World Air Quality Report, India is home to 15 out of top 20 polluted cities in the world. The report was published by IQAir AirVisual and Greenpeace. It measured levels of PM2.5 (fine particulate matter of diameter of 2.5 micrometres in the air) – in 2018. PM2.5 is pollutant that can fester deep in lungs and bloodstream of humans.
Findings of report
India's pollution crisis is not getting any better and continues to remains the country with worst polluted air.

Gurugram in national capital region (NCR) is most polluted city in the world. Seven of the top 10 polluted cities in 2018 were in India, including Gurugram, Ghaziabad, Faridabad, Bhiwandi, Noida, Patna and Lucknow.

22 of top 30 most polluted cities are in India and remaining five are in China, two is in Pakistan and one is in Bangladesh.

Faisalabad in Pakistan, Hotan in China and Lahore are only three non-Indian cities in the top 10. Delhi ranked 11 on with average PM 2.5 concentration in 2018 at 113.5 micrograms per cubic metre.

Bangladesh was most polluted country on average, closely followed by Pakistan and India. Afghanistan, Bahrain, Mongolia and Kuwait were among top 10.

Countries such as Iceland, Finland, Australia, Estonia and Sweden were among least polluted. South Asia region suffers from the worst air quality in the world.

Out of the over 3000 cities included, 64% exceeded the WHO's annual exposure guideline for fine particulate matter, also known as PM2.5.

100% of measured cities within Middle East and Africa exceeded this WHO guideline, while 99% of cities in South Asia, 95% of cities in Southeast Asia and 89% of cities in East Asia also exceed this target.

Beijing which was once considered most polluted city in the world, has shown remarkable improvement. China's pollution combating mechanism progress has been impressive.

However, as far as India is concerned, actions taken so far has been ineffective to control the toxic air pollution.

India must make existing anti-pollution rules much more stringent, aggressive, legally binding and most of all implementable at ground rather than being just used political statement.

Air pollution will take an estimated seven million lives globally in the next year, while costing the world's economy nearly $225 billion.