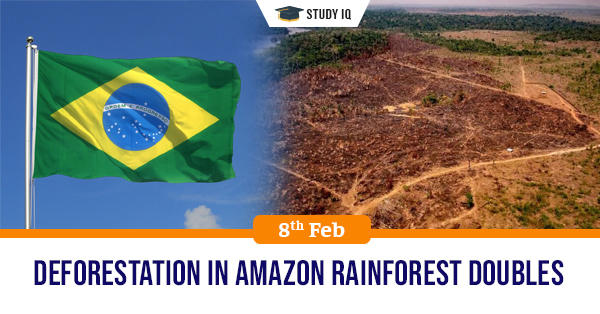 deforestation-in-amazon-rainforest-doubles
Date: 08 February 2020
Tags: Miscellaneous
Issue
Aggressive deforestation is starting earlier this year in Brazil's Amazon rainforest, as the government data showed destruction doubling in January compared with a year ago.
Background
More than 280 square kilometers of rainforest were destroyed last month, according to preliminary statistics released by space research agency INPE.
Details
Deforestation surged last year in Brazil and President Jair Bolsonaro drew condemnation at home and abroad from environmentalists for policies seen as weakening environmental protection.

Destruction is down from highs of more than 1,000 square kilometers per month in July through September, due to the onset of the rainy season, when the forest floor turns to mud, making ground transport difficult in places.

The Amazon is the world's largest rainforest, absorbing vast amounts of the greenhouse gas that causes global warming. Scientists say its protection is vital to avoiding catastrophic climate change.

Environmental agencies have warned that deforestation will accelerate in 2020 unless the government steps up conservation.
Threats facing rainforests
Rainforests around the world are continuously cut down to make room for raising crops, particularly soy, and cattle farming.
The amount of fish needed to feed a growing population, however, may lead to over-fishing, especially if large industries are harvesting fish in order to export to foreign markets.
Large hydroelectric projects, funded by international aid and development organizations like the World Bank, have led to widespread forest loss. Besides inundating large tracts of and killing off local wildlife, the dams have the effect of destroying aquatic habitats and affecting fish populations, displacing indigenous peoples, and adding carbon to the atmosphere.
Hardwood trees provide wood for furniture, building materials, and charcoal. Without trees to hold it in place, soil washes into the river and smothers fish.
Mining operations often necessitate the construction of access roads into remote areas, enabling loggers, poachers, and ranchers access to lands otherwise inaccessible.