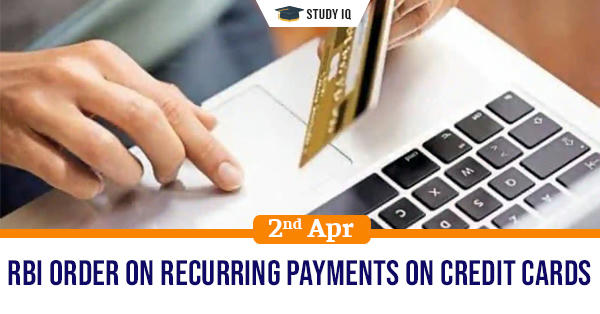 RBI order on recurring payments on credit cards
Date: 02 April 2021
Tags: miscellaneous
Issue
Credit card users who may have been using recurring payments for making transactions have to make payments directly to service providers.
Background
The reason for this is that merchants and banks are still trying to follow RBI guidelines on e-mandate on cards for recurring transactions.
Details
RBI has been concerned that the non-compliance to new regime has not been fully implemented even after the extended timeline.

This situation has caused large scale inconvenience to customers. To prevent this, RBI has decided to extend the deadline to six months.

Any further delay in making the necessary changes by the merchants and banks will attract stringent supervisory action.

Banks have been sending messages to customers that recurring transactions will not be happening until the new guidelines are implemented.
Recurring transactions
It allows a particular service provider to debit a certain amount of money automatically from a card every time a payment has to be made.

Now customers have to pay their bill directly to service providers at regular intervals instead of automatic payments.
Significance of new guidelines
They provide safeguards to customers over various aspects. Customer will receive an update from the issuer regarding the recurring transaction debit 24 hours ahead of the debit.

It offers options to customers to withdraw any e-mandate at any point of time. They can also provide a validity period for the e-mandate.