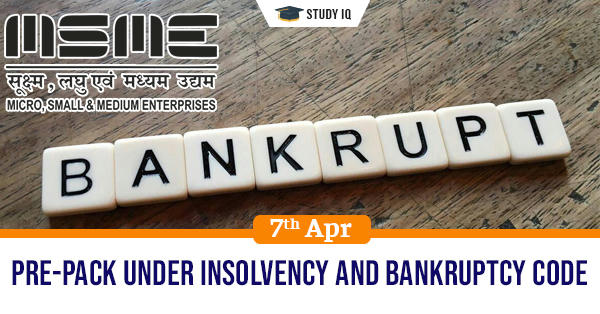 Pre-pack under Insolvency and Bankruptcy code
Date: 07 April 2021
Tags: miscellaneous
Issue
The central government has allowed the use of pre-packs as an insolvency resolution mechanism for Micro, Small and Medium Enterprises (MSMEs) under Insolvency and bankruptcy Code.
Background
The government promulgated an ordinance for allowing the feature with defaults up to Rs 1 crore. The government had suspended insolvency initiation for one year.
Details
The government had increased the minimum default threshold for insolvency proceedings from Rs 1 lakh to Rs 1 crore last year itself.
Pre-pack
A pre-pack provides resolution of the debt of a distressed company by initiating agreement between secured creditors and investors instead of commonly used public bidding.

This form of insolvency resolution mechanism has become more popular in UK and Europe over the last decade.

Financial creditors will have to agree with conditions imposed by potential investors after getting approval from National Company Law Tribunal (NCLT).

A minimum of 66 per cent of financial creditors should be unrelated to the corporate debtor before getting approval from NCLT.
Benefits of pre-pack
The existing CIRP mechanism of resolution is time consuming. The delay is due to litigations by promoters and potential bidders.

Pre-pack gives a maximum time of 120 days and only about 90 days are available for stakeholders to take their plans to NCLAT.

A representative of financial creditors takes management control under CIRP plan but under pre-pack, existing management retains control.

Creditors are allowed to get resolution plans from any third party if they are not satisfied with the plan put forth by the promoter.
Reason behind introduction
Pre-packs will allow MSMEs to restructure their debts and start fresh without allowing the system to be misused to prevent creditors from getting their due.